Stakeholder Engagement Action Plan
Our plan encompasses stakeholder and community engagement, social issues and human rights.
While we have focused on these areas for many years, the plan fosters continuous improvement, consistency, and alignment as we live by our Human Rights Position and Stakeholder Engagement Principles.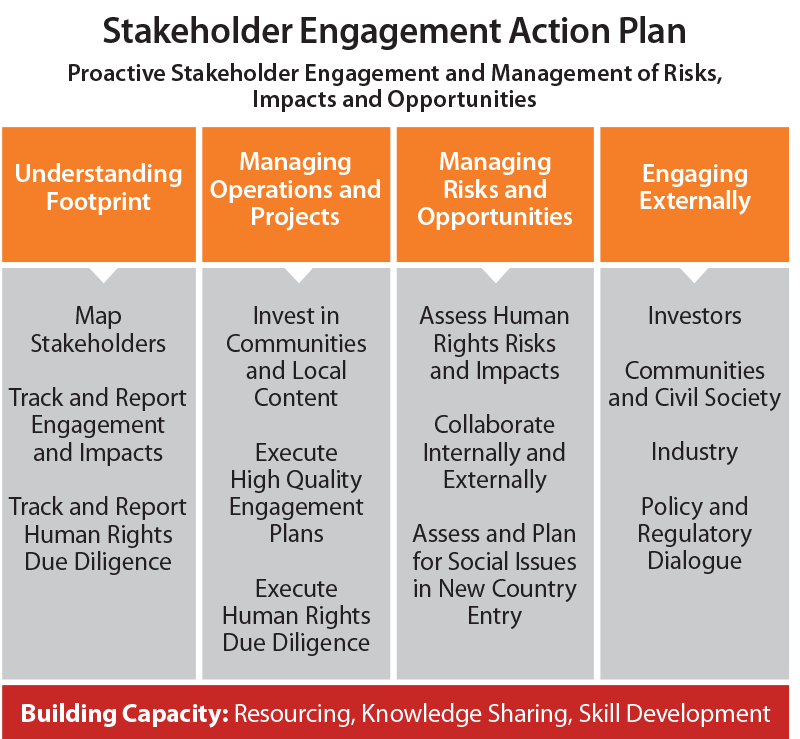 In each of these focus areas, business units and functions have committed to specific actions. The full plan includes 42 specific actions, indicators or projects across the company with clear accountability to drive performance goals. Our annual Sustainability Report offers additional details about our efforts.
Our action plan allows us to track, measure, monitor and adjust our stakeholder engagement efforts. Since every community is unique, our business units develop fit-for-purpose solutions to meet the action plan commitments to assess and address stakeholder issues at all stages of our operations. These issues are reported to asset and company leadership through regular updates, including summarized findings and specific examples when appropriate. Our annual Sustainability Report includes updates of our work on social performance indicators and progress on actions in the Stakeholder Engagement Action Plan.
Action plan commitments and progress are managed through an integrated governance process, which includes involvement of executive leadership and our board of directors. Our Stakeholder engagement issues working group, led by a member of the sustainable development team, is responsible for managing the action plan. The group's members are community relations, human rights and indigenous subject matter experts, advisors, team leads and managers representative of our global exploration and production portfolio. Each of our various businesses and functions is responsible for contributing to and implementing the Stakeholder Engagement Action Plan. Our internal Network of Excellence is the primary knowledge sharing tool for the working group members to innovate, collaborate, transfer knowledge and share best practices.
Progress on our multi-year plan includes:
Understanding Footprint ​
Improve stakeholder mapping process and issue identification for local communities and influencers​
Improve tracking and reporting of stakeholder engagement efforts and related results
Improve tracking and reporting of efforts to manage human rights and related results
Managing Operations & Projects
Incorporate social and human rights issues and impacts, including the rights of indigenous peoples, in risk assessments and plans
Focus social investment and local content plans for optimal community and business benefit
​Implement high quality community and stakeholder engagement plans
​Utilize SD and HSE tools to promote due diligence and social issues risk assessment
Managing Risks & Opportunities
Monitor activism and plan for selective engagement
Plan for emerging policy and regulatory developments
​Maintain and revise community and stakeholder engagement plans
Plan for stakeholder engagement preparation and social issues risks in New Country Entry and New Ventures
​Develop and implement social performance indicators for stakeholder and community engagement, indigenous communities and human rights
Engaging Externally
Continued, regular dialogue with socially responsible investors and other interested stakeholders
Regular annual reporting on implementation of our security and human rights program and activities
Building Capacity
Share best practices through the Stakeholder Engagement Issues Working Group and Network of Excellence
Launch company-wide guidance for Integrated Stakeholder Mapping and Planning
​Strengthen company guidance on social issues and stakeholder engagement in our Health, Safety & Environment Due Diligence process
Implement Stakeholder Engagement training
​Use enhanced and expanded Aboriginal Awareness training as needed
​Implement human rights training for key project and operational leaders, contractors and practitioners
​Engage with industry organizations on social issues work and guidance development
​Incorporate supply chain sustainability into key procurement processes (i.e., supplier qualification)
Social Performance Guidance