ConocoPhillips is Alaska's largest crude oil producer and the largest owner of exploration leases, with approximately 1.3 million net undeveloped acres at year-end 2019.
ConocoPhillips has major ownership interests in two of North America's largest oil fields, both located on Alaska's North Slope—Kuparuk, which the company operates, and Prudhoe Bay. Additionally, ConocoPhillips operates the Alpine Field, located on the Western North Slope.
Significant oil exploration and development opportunities still exist on the North Slope of Alaska, with 75 percent of the company's exploration portfolio undrilled. Final appraisal of the Willow and Narwhal discoveries are underway in 2020. Additionally, the company acquired the Nuna discovery acreage, expanding the Kuparuk River Unit.
In 2019, the company announced its intention to sell approximately 25 percent working interest in the Kuparuk River Unit and in Western North Slope operations, including undeveloped acreage in the NPR-A.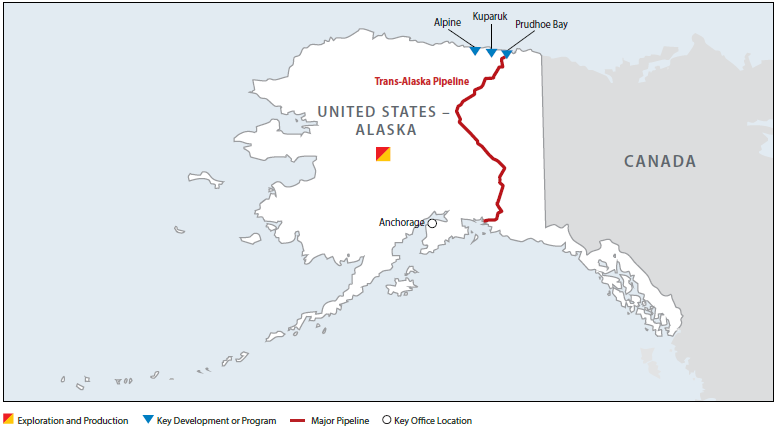 Alaska at a Glance
218 MBOED
Production
1.8 BBOE
Proved Reserves
$1.5B
Capital Spend
1.3 million acres
Net Acreage
5
Double-hulled Tankers
2019 Production Mix
Full-year 2019 production in the Alaska segment was 182 MBOED.