Emissions Reduction Targets
In 2020 we developed a climate risk strategy that sets an ambition to reduce our operational greenhouse gas (GHG) emissions to net-zero by 2050. We also substantially revised our target to reduce our GHG emissions intensity by 35 to 45% by 2030 compared to our previous target of 5 to 15%. In addition, we endorsed the World Bank Zero Routine Flaring by 2030 initiative with an aim to achieve it by 2025 and set a target to reduce methane emissions intensity to 2.7 kilograms methane CO2e/BOE (equivalent to 0.23 percent of natural gas produced) by 2025. These targets inform internal climate goals at the business level and support innovation on efficiency and emissions reduction, GHG regulatory risk mitigation and climate-related risk management throughout the lifecycle of our assets.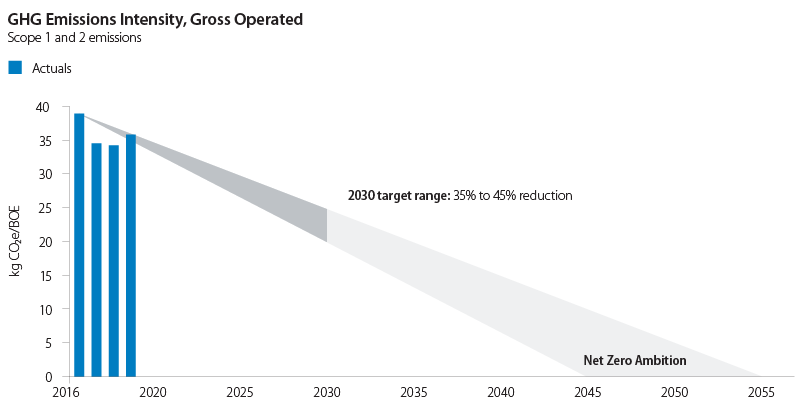 Rationale
We have set a long-term ambition that reflects how we see the company's role in the global challenge to address climate change, meet energy demand and remain financially competitive. Ultimately, the aims of the Paris Agreement will only be met as part of a global collaborative effort based on country, sector, company and consumer actions. The Paris Agreement is set in the context of sustainable development broadly and based on Nationally Determined Contributions (NDCs) which are designed for each country's circumstances, resources and capabilities and reflect varying economies, geographies, and energy supply and demand dynamics.
As country NDCs evolve, we will continue to constructively advocate for effective climate policy including Paris-aligned carbon pricing. As policy and regulations evolve, we will also continue to carry out emissions reduction projects and lower the GHG intensity of our global operations on a technical and economic basis.
Our target to reduce emissions intensity, set over the medium term (10 years), is based on our current asset portfolio, emissions reduction opportunities and view of the energy transition where oil and natural gas continue to make up a significant proportion of the energy mix over that period. Beyond 2030, there are key uncertainties including technology advances, NDC-driven climate policy and market developments that make it implausible to set specific commitments. We manage this uncertainty by using global energy models to develop transition scenarios that we monitor to adjust our strategy, business plan and targets over time. We see this as a credible way to establish how we are addressing the global climate challenge without choosing a single, yet to be determined, future pathway.
Like countries who may have different pathways to their NDCs, our pathway and targets may not be the same as other companies due to differences in asset mix, geographies, risks and opportunities. We want our employees, financial sector and community stakeholders to understand our goal to be resilient and competitive through the energy transition and for those stakeholders to have the confidence that our people, portfolio and strategic capability will meet the challenge.
GHG Emissions Intensity Target
We have set a medium-term performance target to reduce our GHG emissions intensity by 35-45% by 2030 from a Jan. 1, 2017 baseline. Our performance will be based on gross operated GHG emissions, stated in carbon dioxide-equivalent terms, divided by our gross operated production, stated in barrels of oil equivalent. The target is set in relation to our scope 1 emissions and scope 2 gross operated emissions, as these are the emissions over which we have the most control. The target covers all GHGs, but in practice will likely apply to carbon dioxide and methane emissions, as our emissions of other greenhouse gases are a small fraction of the total. For comparability purposes we exclude exploration and transportation services (i.e. Polar Tankers and Global Aviation), which are not directly related to oil or gas production, from our emissions totals. This may give rise to small differences between the intensity we report for our GHG target purposes and the intensity we report in our annual Sustainability Report. Our current metrics also do not include the use of carbon offsets.
We report our progress against the target on an annual, calendar-year basis.
Read more about our target principles.
Methane Emissions Intensity Target
We have set a near-term target to reduce methane emissions intensity by 10% by 2025 which is 2.7 kilograms methane CO2e per BOE. This is in addition to our already significant progress over the past 10 years with reductions of approximately 65% since 2015. Just over half of that reduction has come from voluntary methane reduction activities and the rest from portfolio changes.
Setting a methane intensity target ensures continued focus on methane emissions reductions, including designing new facilities to avoid methane emissions as much as practical. For example, our new development in Montney was designed to eliminate the majority of methane emissions by utilizing self-generated electricity and electric equipment rather than traditional natural gas driven equipment.
In addition to the methane emissions intensity target, we are committed to improving data quality and are investing in detection, quantification and continuous monitoring technologies.
Our performance will be based on gross operated methane emissions, stated in carbon dioxide equivalent terms, divided by our gross operated production, stated in barrels of oil equivalent. This metric includes our methane emissions from both oil and natural gas production. We will use the methane emissions reported in accordance with the regulations in the jurisdictions where we operate.
Read more about our methane performance.
Flaring Target
Endorsing the World Bank Zero Routine Flaring by 2030 initiative is also a key near-term action within our ambition to become a net-zero company by 2050. While our flaring emissions make up only 11% of our total GHG emissions, our flaring rates increased in 2018 and 2019. Endorsing the World Bank initiative, with an ambition to meet it by 2025, will ensure continued near-term focus on routine flaring reductions across our assets.
Routine flaring is defined as flaring that occurs during the normal production of oil in the absence of sufficient facilities to utilize the gas onsite, dispatch it to a market, or re-inject it. Flaring for safety reasons, non-routine flaring or flaring gas other than associated gas is not included as part of the World Bank Zero Routine Flaring initiative. The target applies to our operated new and existing oil field assets. New oil fields will be developed to incorporate sustainable utilization or conservation of the field's associated gas without routine flaring. For existing oil fields with routine flaring, we will seek to implement economically viable solutions to eliminate flaring as soon as possible, and no later than 2030. Existing oil fields are those in production at the end of 2020. If we acquire an oil field with active, existing production, it will be considered an existing oil field and we will seek to eliminate routine flaring no later than 2030.
Safety flaring can continue for as long as necessary to maintain safe operations without being re-classified to routine or non-routine flaring. A process upset event, including third party upsets resulting in flaring of associated gas that extends beyond 30 days, is considered routine flaring and must be justified by the business unit. Any other non-routine flaring event that extends beyond one year, regardless of conditions, must be approved by the vice president, HSE.
Read more about our flaring performance.
Target Implementation in 2019
We completed our implementation plan to strengthen processes, tools and data required to support achievement of the target. This included:
Validation of our baseline emissions to attempt to ensure an accurate and well-documented baseline.
Continued collection and critical review of prospective emissions reduction projects through our marginal abatement cost curve (MACC) process to assess completeness of the project list.
Business units developing fit-for-purpose plans that focus on further emissions reductions.
The establishment of emissions-reduction steering groups in many business units to manage the planning process.
Our North American business units collaborating to share knowledge about methane reduction projects.
Continued engagement of our workforce to ensure broad alignment on target implementation.
Progress on target performance is regularly reviewed by executive management and the board.
Target Progress
The 2017 sale of older assets in the U.S. and Canada reduced our GHG emissions intensity significantly. GHG emissions intensity increased in 2019 primarily due to an increase in drilling, production and flaring in the Lower 48 and the disposition of our U.K. business unit. Read more about our Total Flaring Volume.
While we have made strong progress in meeting the target during the first three years as we adjust our portfolio and use new technologies in our developments, we believe we will continue to need a long-term target range for several reasons. First, there are still 11 years before the target end date, and we would expect GHG intensity of our older fields to increase. (As natural gas and oil fields deplete, more energy is required to produce the same or lower volumes, while newer fields utilizing modern technologies are likely to operate at lower intensities.) Second, some of our reported emissions are the result of applying standard emissions factors which may underestimate or overstate our actual emissions. We expect industry technologies around emissions detection and monitoring to advance over the next 11 years to reflect actual performance more accurately, which could also increase or decrease our intensity. Third, our portfolio will continue to change over time and, depending on the intensity of new production, our future intensity could increase or decrease. For example, part of the increase in intensity in 2019 was due to the full-year impact of the disposition of our U.K. business unit, which was comprised of lower-intensity offshore developments, while the full-year disposition of our higher intensity West Australia business unit will not be reflected until 2020.
As part of our efforts to continuously improve the quality of our environmental metrics data, in 2019 we honored our commitment to our emissions metrics procedures by working to improve our recording processes to facilitate more consistent and accurate recording and reporting of greenhouse gas emissions. We conducted an internal detailed review of our emissions inputs and accounting practices with one of our business units. As a result of the findings from this review, we updated our previously reported air emissions, greenhouse gas emissions and energy efficiency metrics for 2016, 2017 and 2018. This resulted in a revision of the company totals for these metrics by 1-3% of previously reported totals. This has resulted in small changes to the previously reported GHG intensities.
Reducing Emissions
Our 2019 gross operated global business-as-usual GHG emissions have been reduced by approximately 26% as a result of discretionary projects since 2009. We continued our voluntary emissions reduction program in 2019, with projects reducing GHG emissions in the U.S., Canada, and Norway.
In the U.S. we are participating in The Environmental Partnership, a coalition of over 80 natural gas and oil companies working to improve methane emissions management. As part of our commitment, our Lower 48 operations have focused on two key areas:
Leak Detection and Repair (LDAR) programs — In 2019, we conducted more than 5,900 site surveys across our assets to detect leaks and quickly repair them. While this is a regulatory requirement in many areas, almost half the surveys were done voluntarily. These surveys continue to provide a better understanding of where leaks occur and how we can minimize fugitive emissions. We continue to explore new technology associated with drones and continuous site monitoring to reduce site emissions. Read more about our drone pilot project.
Pneumatic device evaluation and conversion — All high-bleed pneumatic controllers have been removed or replaced. Many of our greenfield designs at new facilities include devices to use supplied air instead of site gas to reduce natural gas emissions from pneumatics.
In Canada, GHG reduction projects include:
The installation of non-condensable gas co-injection in the oil sands to enhance production while reducing energy consumption and emissions. Read more about how we are reducing GHG emissions by over 20% while increasing production.
The Carbon XPRIZE competition to research technologies to capture and transform CO₂. Read more about the global competition. (link to CCUS section)
In Norway, we worked with one of our offshore suppliers to install batteries on supply vessels to reduce CO₂ by 1,400 tonnes and nitrous oxide by 20 tonnes annually. Read more about the project.