ConocoPhillips Adopts Paris-Aligned Climate Risk Framework to Meet Net-Zero Operational Emissions Ambition by 2050
ConocoPhillips has adopted a comprehensive framework that will guide the company on how it will manage climate-related risk, meet energy demand and address the expectations of stakeholders through the energy transition.
"As an exploration and production company, we recognize three significant issues facing our sector," said Ryan Lance, CEO, ConocoPhillips. "First, the world is increasingly demanding global action to address climate change. Second, we need to play a part in sustainably helping meet global energy demand. And third, we must do both while delivering competitive returns.
"We are making clear our intent to address all three issues by laying out a climate risk strategy that aims to reinforce our commitment to environmental, social and governance (ESG) excellence."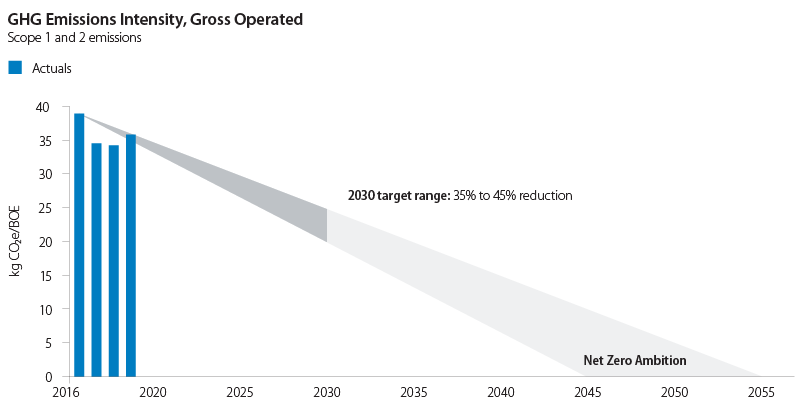 Read more about ConocoPhillips' Climate Risk Strategy.
Addressing Climate Change
The company is responding to the first challenge by announcing more aggressive greenhouse gas emissions targets and actions consistent with the Paris Agreement's aim to limit the rise of global temperature to well below 2 degrees Celsius, including:
Setting an ambition to become a net-zero company for operational (scope 1 and 2) emissions by 2050.
Revising its previous operational greenhouse gas emissions intensity reduction target to 35-45% by 2030, from the earlier 5-15% goal.
Endorsing the World Bank Zero Routine Flaring by 2030 initiative, with an ambition to meet that goal by 2025.
Adding continuous methane monitoring devices to our operations, with a focus on the larger Lower 48 facilities, with the expectation that two-thirds of Lower 48 production will be monitored for emissions by 2021.
Advocating for a U.S. carbon price to address end-use (scope 3) emissions through its membership in the Climate Leadership Council.
Including ESG performance in executive and employee compensation programs.
Read more about ConocoPhillips' GHG emissions intensity reduction targets.
ConocoPhillips was the first U.S. exploration and production (E&P) company to set a long-term emissions intensity reduction target. The company has already aggressively and voluntarily reduced emissions intensity within its operations through improving energy efficiency, replacing equipment, electrifying plants and equipment, and detecting and repairing methane leaks. Since 2015 we have reduced our methane intensity by nearly 65%.
An annual Marginal Abatement Cost Curve (MACC) analysis proactively identifies and prioritizes emissions reduction opportunities from operations based on the cost per tonne of carbon dioxide abated. The company currently has over 100 projects in the MACC process.
Meeting Global Energy Demand
The second challenge takes into account predicted oil and natural gas demand in a carbon-constrained world, such as the International Energy Agency's Sustainable Development Scenario (IEA SDS).
That scenario, developed in 2019, would meet the Paris Agreement's aim, with world oil demand still at about 65 million barrels per day in 2040. The IEA estimates about $13 trillion of investment in oil and natural gas would be required over the next 20 years to offset declining production and meet the growing population's energy demand during the transition.
"On average that is a $650 billion annual investment, which is greater than the average annual investment of the oil and gas industry over the last decade," Lance said.
ConocoPhillips is committed to sustainably and affordably meeting global energy demand.
"Several years ago, the company eliminated an explicit production growth target from its capital allocation criteria and established cost of supply as the primary basis for capital allocation," Lance said. "Doing so ensures we develop resources that are the most likely to be developed in any scenario that meets the Paris Agreement's aim of a less-than-2 degrees Celsius temperature increase.
ConocoPhillips currently has 15 billion BOE of resources below $40 per barrel WTI cost of supply, diversified geographically and across four megatrends, with an average cost of supply of less than $30/bbl. The company publishes its quantified cost of supply curve annually so investors can develop their own view of the potential risk of stranded resources within the portfolio.
"Meeting the world's energy demand during a transition to a lower-carbon future requires an approach that recognizes the need to reduce emissions, operate responsibly and offer competitive returns," Lance said. "And that's what our strategy is intended to do."
Delivering Competitive Returns
For the third challenge, ConocoPhillips has instituted a planning process that prepares the company for the volatile, unpredictable business the E&P sector faces.
The company uses a scenario-based strategic planning process to ensure its plans are sufficiently flexible to navigate through price cycles and the energy transition. The planning process includes use of a proprietary global energy model and simulations of numerous energy transition scenarios. The model is based on three main variables: technology advancement, government policy actions and consumer preferences. For example, ConocoPhillips has modeled the ranges and impacts on oil demand caused by the increased market penetration of electric vehicles, the adoption pace of carbon pricing, and the rates at which consumers could adopt ride sharing.
The strategic choices that ConocoPhillips makes for its business plans are informed by a rigorous review of scenario outcomes and tests of possible paths across market environments. The company provides a full review of its strategy and plans, including scenarios, to its board of directors annually. It also routinely engages stakeholders and publishes an annual report on how it manages climate-related risks.
Read more about ConocoPhillips' scenario planning.
ConocoPhillips has expanded the scope of its planning process to include the evaluation of low-carbon opportunities and technologies that can closely integrate with its global operations, markets and competencies.
This includes a feasibility assessment across three themes: carbon capture and utilization, the hydrogen economy, and alternative energy technologies that can reduce the emissions intensity of current operations. Future decisions on potential investments in these options will be based on the disciplined capital allocation criteria governing the company's strategy today, as well as the impact of meeting the 2050 net-zero operational emissions ambition.
"We are going to increase the work we are doing to better understand all opportunities to deliver effective emissions reduction projects while still providing shareholders competitive returns," Lance said.
According to Lance, the new climate risk strategy marks an important step to demonstrate the commitment by ConocoPhillips to reduce emissions, safely provide affordable energy and deliver competitive performance through cycles.
"Addressed comprehensively, our actions are consistent with our stated corporate purpose: to create benefit for all our stakeholders," Lance said.