Actions matter. Valuing everyone's contribution isn't just something we talk about. It's what we put into practice each day. We respect one another and are focused on creating an inclusive environment and culture that reflects the different backgrounds, experiences, ideas and perspectives of our employees.
We believe each person is accountable for creating and sustaining an inclusive work environment. As individuals and as a company, we are taking concrete steps to address inequities and racial injustice. Current actions include:
Examining our Talent Management Teams (TMT) processes to ensure we're promoting diversity and inclusion (D&I) within our selection and succession efforts.
Improving our recruiting process to mitigate bias, embed inclusion throughout our process and attract a diverse candidate pool.
Mandating diversity and inclusion goals for each business unit, function and staff group across the company. Additionally, we expect all our leaders to have a personal inclusion goal that will be assessed as part of our annual performance process.
Providing numerous training and development offerings – with enrollment goals – to equip our workforce, our hiring managers and our leaders with the skills, knowledge and self-awareness to advance our diversity and inclusion efforts.
Supporting employee networks that we are leveraging to bring awareness to D&I.
Guided by Our Values
Our commitment to building a diverse and inclusive environment is foundational to our SPIRIT Values  that guide how we interact every day. We believe each employee is accountable for creating and sustaining an inclusive work environment. Three areas guide our actions and drive progress: leadership accountability, employee awareness, and processes and programs. In 2019, we established corporate priorities under each of these areas.
Leading from the Top
We believe leadership is the single most important factor to achieve meaningful progress on diversity and inclusion. In 2019, we established a governance process to support D&I efforts within ConocoPhillips. The Executive Leadership Team has final responsibility, and our senior vice president, Corporate Relations is the D&I Champion. A global D&I Council, made up of top senior leaders, has the responsibility to advocate, advise and serve as ambassadors for D&I across the company. Leaders around the world are accountable for having local D&I plans, and they meet regularly to discuss challenges, opportunities, best practices and progress. They also continue to develop plans and supporting programs to align with the company's D&I priorities. For example:
As part of ConocoPhillips China's 2019 inclusion program, all female employees attended a gathering with the business unit (BU) president. During the half day activity, they discussed the challenges faced by women in the workplace and developed recommendations for how to resolve those challenges.
Our U.S. Lower 48 BU launched a monthly inclusion newsletter for supervisors that includes resources on varying D&I topics and concepts to help leaders actively engage with their teams. This series kicked off with a video featuring the BU president highlighting the important role leaders play in creating an inclusive environment.
In Qatar, a team of employees developed local action plans aligned with the company's D&I priorities. The team branded their efforts as WASL, which means connecting and respecting in Arabic, and focused on three concepts: same but different, small tweaks and focusing on inclusive conversations.
We actively monitor diversity on a global basis. In 2019, 36% of our board of directors, 26% of our employees and 24% of our leaders were women. In the U.S., minorities make up 19% of our leadership and 24% of our workforce. Global leaders also track and review their data to identify focus areas, which can vary by region.
Enhancing Awareness
Every employee has access to resources including network groups and training. For more than 30 years, our employee networks have provided an important forum for discussion, development and connection to our communities. These groups also raise awareness about important D&I topics and help influence greater awareness of diversity and inclusion.
Training on topics, such as unconscious bias, help create a more inclusive environment and training is available to all employees. In 2019, more than 130 leaders participated in Catalyst's Men Advocating Real Change (MARC) program
training. This included hosting MARC program trainings at our Houston, Calgary and Anchorage offices. Additionally, we had a pilot group of employees complete training on psychological safety in the U.S. and China. This training is key to ensuring all employees feel open to share and play a key role in our organization, from safety and production to innovation and inclusion. Our top senior leaders also received training on psychological safety and how it relates to our core priorities as a company. Psychological safety training will be expanded in 2020.
To further general awareness across the organization, we:
Launched an internal Yammer Group in 2019 to provide a forum for employees to talk openly, honestly and respectfully about D&I.
Updated our resource site for all employees to learn more about D&I and share what others are doing around the company.
Have D&I committees in many of our BUs and functions who help advocate and advance their organization's D&I priorities.
Discuss D&I activities and share best practices in quarterly HR manager meetings.  
Sustaining Progress
We link our inclusion efforts to our daily activities. For example, we offer flexible work schedules at most locations to help employees balance personal and work responsibilities.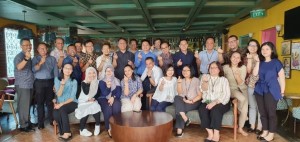 In the U.S., we've worked to expand our policies by offering increased parental leave beginning in 2020 to fathers, mothers, partners and adoptive parents. In 2019, we enhanced our recruiting practices to embed inclusion into each step of the process, from drafting job descriptions to using intentionally diverse interview panels and candidate selection methodologies.
We added an innovative writing platform to help us remove any biased language from job postings and unconscious barriers to attracting top candidates.
All those involved in the recruiting process receive training on inclusive hiring best practices. More than 275 managers, HR professionals and employees also completed our inclusive hiring course to assist them in recognizing bias and its impact on the staffing process while providing strategies to mitigate bias and make objective hiring decisions. In addition, all U.S. recruiters participated in disability etiquette training.
To continue building a diverse candidate pool, we work to connect with individuals and veterans with disabilities who want to find employment with an inclusive employer, and we ensure job postings are promoted through a variety of diverse organizations.
Hiring veterans is a key piece of our talent strategy as they represent 6% of our U.S. employee workforce. We also work with an external contingent worker partner to help veterans gain industry experience. Additionally, we participated in the Disability: IN Greater Houston Fifth Annual Veterans and Individuals with Disabilities Hiring Event and Business Symposium and continued to train our recruiters on military terminology, as well as the top challenges veterans and transitioning military service members face.
To attract diverse candidates for full-time positions and summer internships, we recruit from a number of universities in the U.S. By attending conferences and recruiting at Hispanic-serving institutions and historically black colleges and universities (HBCUs), we are able to extend a broader outreach to potential candidates. Last year, we also attended the National Society of Black Engineers Conference in Detroit, Michigan. In addition, our Supply Chain and IT organizations attended career fairs and other related events at Prairie View A&M University, one of the largest HBCUs in the United States.
Supplier Diversity
We apply our high standards for diversity and inclusion throughout our supply chain. We identify and facilitate opportunities to utilize products and services from businesses owned by women and minorities. We expanded our supplier diversity program to support the inclusion and utilization of suppliers that are service-disabled veteran-owned businesses. Our supplier diversity team builds relationships with diverse suppliers and provides guidance to position them for current or future projects.  Read more about our support for diverse companies in the U.S.
Recognition
In 2019, we were named one of the "World's Best Employers" by Forbes Magazine. Additionally, four ConocoPhillips employees and the Diversity Network of Alaska were recognized with a 2019 GRIT Award for their D&I efforts. The individual GRIT Awards were created to recognize women leaders in energy and the men who advocate for their progress. To qualify for a team GRIT Award, groups must demonstrate support and embrace collaboration, diversity and inclusion. Internally, we established a D&I Advocate category for our SPIRIT of Performance Awards, signaling our ongoing commitment to advancing our D&I culture. The Human Rights Campaign's 2018 and 2020  Corporate Equality Index recognized us for our commitment to lesbian, gay, bisexual and transgender equality in the workplace with a score of 100.
While we have been recognized for our inclusion efforts, we know that it takes ongoing commitment to make sustainable progress. So, we continue to provide training, build awareness and reinforce accountability at all levels of the organization and focus on behaviors and processes that build an environment where everyone has the opportunity to succeed.