Taking Action on Climate Change
As we work to safely find and deliver energy to the world, addressing climate change-related issues is a high priority.
Our climate change strategy is designed to prepare the company to succeed in a world challenged to reduce greenhouse gas (GHG) emissions.
We implemented a corporate climate change action planning process to put our strategy into action and manage GHG emissions. The planning process encompasses adaptation to physical changes in climate.
We consider a range of external insights as we evaluate and plan actions to address climate-related issues in our businesses and functions. Examples include:
Government actions on reporting and regulating greenhouse gas emissions. Globally, governments are taking action on reporting and regulating greenhouse gas emissions, such as in the European Union, the U. S. through the Clean Air Act and state laws, and in Canada at the federal and provincial level. Many countries made commitments as part of the Paris Agreement. However, there is uncertainty given the timing, type and range of actions available to countries, coupled with the conditionality placed on many of the commitments.
Research centers, universities and other stakeholders continue to provide information about climate-related risks and opportunities.
Many investors have questions about the impact of increasing regulation and legislation on the company's returns, valuation and business outlook. Investors also seek to understand how we are managing these issues to reduce risk and create opportunity.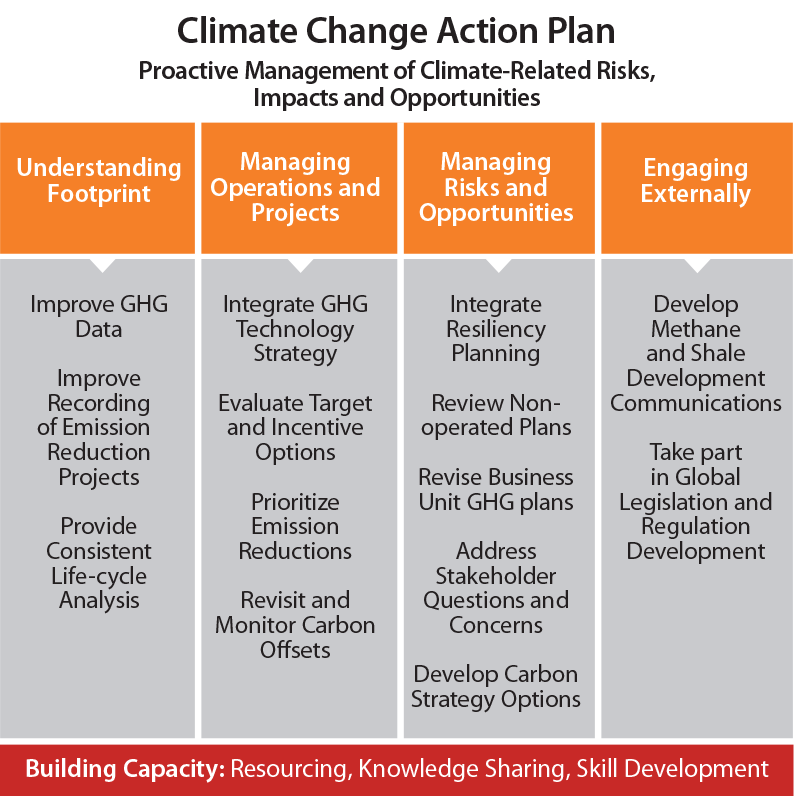 Our plan is constructed of five focus areas:
Understanding Footprint — Improving the accuracy and consistency of recording and reporting.
Managing Operations and Projects — Assessing and implementing emissions reductions where it makes sense to do so, focusing our efforts on priority areas.
Managing Risk and Opportunity Exposure — Scanning for emerging issues and preparing the company to address climate-related risks and opportunities.
Engaging Externally — Learning from stakeholders and communicating how we are addressing climate-related risks in our business.
Building Capacity — Building and sharing knowledge, developing skills, and resourcing is foundational to the work of our action plans.
Our Climate Change Action Plan is comprised of 73 specific, detailed actions within the 14 major groupings shown above. Our annual Sustainability Report includes specific examples of our progress on these actions. The comprehensive plan is refreshed annually as part of our long-range planning process.