Integrating Sustainability
Improving the Lives of Youth
Since 2008, the Sustainable Communities Initiative (SCI) has worked to create shared benefit and value in communities near the oil sands region of northern Alberta, Canada. ConocoPhillips joined other oil sands companies, partner organizations and Indigenous communities to explore how companies could work together to build stronger relationships with communities and have a positive social impact. The idea was to work with local residents to co-develop self-sustaining programs that they could manage independent from industry partners.
"The intent was to build local capacity in the community to run their own non-profit organization serving community needs. The idea was to either eventually integrate this service into already established institutions such as schools, health centers and First Nation programming or to create a fundraising model that would ensure its sustainability - or a combination of both," said Chantale Campbell, senior coordinator, Stakeholder Engagement. SCI had three phases: design, implementation and sustainability. The sustainability phase was always intended to be one of transitioning to financial independence and self-governance, Campbell noted.
Evolution
SCI was formed as a joint industry project in 2008, by six companies in the Oil Sands Leadership Initiative (OSLI) and aimed to address environmental and social challenges. Work began with the rural community of Janvier in 2009 and once a basic design was in place, the small community of Fort Chipewyan joined in 2010.
Initial conversations were focused on education, but after two years of working with the communities the mission of SCI was reframed to capture a more holistic view of community sustainability, inspired by community interests. This included a pivot to programing that more directly met the needs of local youth, with a focus on improved quality of life via education and training. Additionally, Elders were consulted about how to incorporate cultural elements into curriculum development. An implementation phase was mapped out and ConocoPhillips Canada served as the lead operator for the project. Non-profit organizations with volunteer community boards were established and, as they developed a voice and greater capacity, the SCI program became more community focused.
Janvier and Fort Chipewyan community members were integral to SCI success during design and implementation phases, presenting at conferences and contributing directly to projects in their communities. They also provided ideas to support project sustainability and were involved in regular working group and transition planning meetings. Youth especially were catalysts for community and company involvement, since all parties agreed they were an important focus of program design.
"Additionally, the youth actively challenged everyone involved with SCI to think more broadly, which made everyone more accountable and dedicated to the success of SCI," Campbell said. "It's a perfect example of 'doing with' not 'doing to' communities."
The focus of SCI began to shift from program and administrative management support to the third and final sustainability phase in 2017. ConocoPhillips Canada and partners signaled that their funding levels would decline and, over the next three years, supported efforts by community members to raise an additional $350,000 annually through fundraising. Where there were budget shortfalls, company partners coached and supported community boards to rely on good governance and transparent accountability to make decisions, resulting in efficiency gains and innovation. Questions like "Can your program meet its vision without this activity?" and "Can you rely on volunteers to deliver this line item of the budget?" were common in discussions around budget stewardship.
The effort to transition program responsibility to the communities included moving from the old joint company-community structure and governance to an in-community, free-standing model. This final sustainability-focused step for SCI allowed each community program to define, design and operate independently with the support of its chosen partners. Starting in 2019, community boards were accountable for managing themselves by partnering with different company and community partners to support them financially and/or through in-kind services. During the transition to independence, Campbell worked with each community to entrench governance related to running their respective programs, including finance, funding partner management, staff and volunteer resources, and internal and external communication.
Key Program Initiatives
Sekweha
Sekweha, meaning 'for the youth' in Dene (an Athabaskan language spoken by local Indigenous Peoples), was the ideal name for a non-profit organization with a vision of "helping youth to gain the knowledge, confidence and skills they need to be successful in life and to make positive contributions to their community." The Sekweha Youth Centre in Janvier is the backbone of the program and was built on the foundation where the community dance hall once stood. Since the dance hall was the area's social gathering hub, the youth center aims to fill that void by offering daily programming after school and on weekends. A volunteer community board works with other partners to find opportunities to enrich programs and services to better meet the needs of children and youth. The center raises funds through grassroots activities such as Pizza Night, with Sekweha youth making pizza from scratch, soliciting orders via the community social media page, and delivering the product to customers. The experience not only helps supply funding for Sekweha activities, but also helps participants learn about time management, budgeting, cooking and customer service. Based on the confidence in governance and value the youth center provides to the community, ConocoPhillips Canada allocated $70,000 (CAD) to help fund Sekweha in 2019.
ELI
The Experiential Learning Initiative (ELI) was a subset to the broader youth-focused community initiative that was embraced and adopted by both of the participating SCI communities. It was designed to give participants insight into experiential learning practices and a deeper knowledge of traditional culture such as beading, traditional food preparation, and Dene and Cree language lessons, while also fulfilling school-based science curriculum. Dozens of students from Sekweha and Lake Athabasca Youth Council (LAYC) participate in activities throughout each year as well as Elders, community members and SCI partners and guests from various organizations. Since 2014, an annual ELI gathering is held to showcase the intersection of culture and curriculum.
At the 2017 ELI Gathering, Elder Agnes of Chipewyan Prairie First Nation (CPFN) started a tradition of taking the youth on a medicine walk where participants learned about the significance and use of local medicinal plants. Youth also participated in a tea boiling and fire making contest, as well as cultural drumming and hand game activities. 'Sweat lodges' allowed them to experience that traditional element of Dene culture. The gathering is designed to help youth "walk in two worlds" by promoting and supporting both cultural and secular educational opportunities.
"We've seen youth lives improving as they discover their life path, with some going to post-secondary school, some entering ConocoPhillips Canada apprenticeships . But there are still a lot of challenges," said Campbell. There's a long history of distrust between the school system and Indigenous Peoples in Canada. Integrating traditional knowledge into the classroom based on input from community experts and including ELI programming through SCI efforts has helped to bridge the gap and create a stronger relationship between the schools and community members where Sekweha and LAYC youth centers exist.
Key Outcomes
SCI programs provided many youth participants with their first jobs, travel experience, opportunity to plan and lead a meeting, event or project. Programming provided meaningful, consistent activities for youth to make positive and productive choices about how they spent their time, often contributing to their communities.
"Many people involved with SCI spoke about youth confidence improvements throughout the life of the Initiative, including specific memories of youth presenting on their experiences and what they gained through the programs. Additionally, accountability became more visible and worthy of celebration. There was a noticeable decrease in youth breaking rules or losing event participation privileges. And we saw the youth begin holding each other accountable," Campbell said.
Adults from area communities also engaged in SCI programming, acting as role models for youth and collaborating with industry partners. Volunteers served on the community board by sharing expertise in governance, and traditional land users guided land-based learning camps and activities, working with teachers at the local school to coordinate the curriculum with the traditional teachings.
"The SCI programs provided the community structures to support social change and engaged with community members in a manner that facilitated and respected cultural values in pursuing the vision," Campbell added.
Creating Value for ConocoPhillips
Though the project was designed to address social priorities of Indigenous communities, corporate partners also realized benefits from SCI. The effort created trust between the industry partners and communities and allowed company representatives to gain a better, more nuanced understanding of the communities.
Additionally, work with SCI provided a foundation for some of the stakeholder engagement principles used by a variety ConocoPhillips practitioners around the globe, and the development of the Values and Interests Assessment approach (VIA). These enable stakeholder engagement professionals to better understand community concerns and build relationships and trust while working in the communities. Also, programs provided the people from the community with skills that would position them to potentially work at Surmont.
"Most importantly, we were exposed to true community life and developed empathy for the community that allowed us to be better partners," Campbell said. "In the past, industry may have called a community investment a success if we saw our banner displayed at a local event. Now, we know it is successful because community members really know us, and we see it is making a difference. We are welcomed at Sekweha and are part of community events."
Training for the Future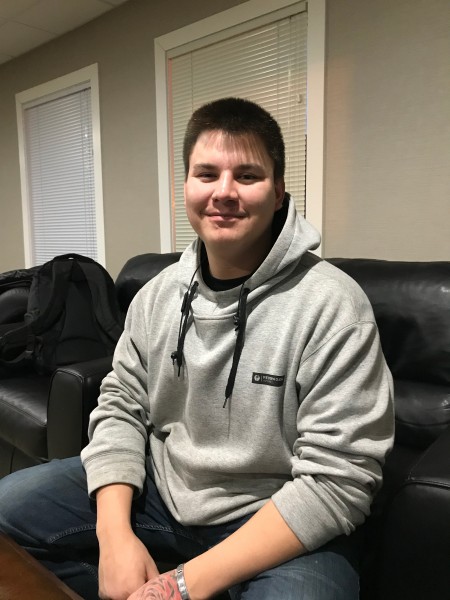 Elliot Deltess appreciates his late grandmother for many reasons. She was his primary caregiver and offered him stability and love - including tough love - when life got challenging. After graduating from high school, Deltess really didn't have any specific plans, intending to spend his time hanging out with friends and relaxing.
"But less than two weeks later my grandmother said, 'Go get a job'," Deltess recalled.
His options were limited in the small community of Janvier. But, determined not to disappoint his grandmother, he walked down to Sekweha Youth Centre, where he was hired as a youth worker. That job set him on a path that led to his current role as a contractor working at Canada's Surmont oil sands facility. At the age of 17, Deltess lacked work experience but was immediately thrown into a job that involved planning daily activities for local Indigenous youth and working with sponsor companies to plan and fund field trips to larger cities. Time spent playing pool, in the gym, pizza nights and "minute to win it" games helped him develop his networking, communication and presentation skills. Adults affiliated with the center encouraged and mentored him. A nudge from his cousin led to the decision to apply for the Operator Trainee position at Surmont 2 after leaving his job at the youth center. There he received the training that positioned him to now serve as a local contractor at the facility, with marketable skills. He started the program, he said, "knowing nothing."
"And now I've gone from being the person who shovels the snow on the sidewalk to be the person who tells someone else to shovel the snow," Deltess quipped. He credits support from his grandmother, and lessons learned at the Sekweha Youth Centre, with his current success.
"Kids would not be the same without the youth center. They would find other things to do, like vandalism and stealing. Even if they just come for the Wi-Fi and food, they are hanging out there instead of somewhere else," he said.