Scope 1 and Scope 2 Emissions
Our scope 1 and scope 2 GHG emissions and emissions intensity calculations directly measure our climate performance and help us understand climate transition risk. For example, our ability to manage GHG emissions can help us measure resilience to emerging carbon tax regulation.
In 2019, our total gross operated GHG emissions, in CO2 equivalent terms, were approximately 20.5 million tonnes, a decrease of about 1.4% from 2018. The reduction was driven primarily by our UK asset disposition, downtime at Surmont due to a turnaround, and reduced production and LNG plant throughput at Darwin LNG. This was partly offset by increases from continued development in Lower 48 and increased flaring and LNG plant throughput at APLNG. Our overall GHG emissions intensity increased by 4.6% in 2019. Read more about our GHG emissions intensity target.
In accordance with our aim to improve the disclosure of risk to our stakeholders, we have integrated climate related Sustainability Accounting Standards Board (SASB) metrics into our 2019 performance metrics.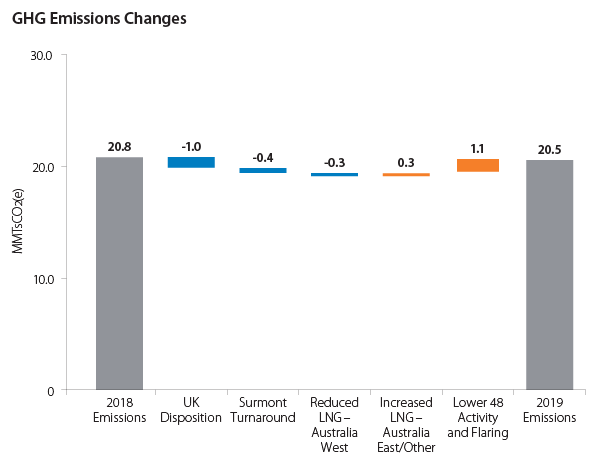 We report our operated emissions in the following regions, countries and provinces in accordance with regulation:
Australia: The National Greenhouse and Energy Reporting Act 2007 (NGER Act) and the National Greenhouse and Energy Reporting (Measurement) Determination 2008.
European Union: EU Emissions Trading System, Monitoring and Reporting Regulation Council Directive 2003/87/EC, as amended by Council Directive 2009/29/EC.
Norway: Greenhouse Gas Emission Trading Act of 17 December 2004.
United Kingdom: Greenhouse Gas Emissions Trading Scheme Regulations 2012.
Alberta, Canada: Emissions Management and Climate Resilience Act: Specified Gas Reporting Regulation, Alberta Regulation 251/2004.
British Columbia, Canada: Greenhouse Gas Industrial Reporting and Control Act: Greenhouse Gas Emission Reporting Regulation, British Columbia Reg. 249/2015.
Indonesia: Minister of Environment Regulation No. 12 of 2012 regarding Guideline for the Emission Load Calculation for Oil and Gas Industry Activities.
United States: 40 CFR 98 Subparts C,PP, UU & W — Stationary Combustion Sources; Suppliers of CO₂; Injection of CO₂; Petroleum and Natural Gas Systems.
Our corporate reporting system uses the rules, emission factors and thresholds for regulatory emissions with the following amendments. We use a facility threshold for reporting of 25,000 tonnes per year increasing the corporate emissions reported for Alberta, Canada, which uses a regulatory threshold of 100,000 tonnes per year. In our corporate reporting system, we include scope 2 (emissions from imported electricity) which are not required under regulatory reporting.
Scope 1 – Direct GHG emissions from sources owned or controlled by ConocoPhillips.
Scope 2 – GHG emissions from the generation of purchased electricity consumed by ConocoPhillips.
Scope 3 – All other indirect GHG emissions as a result of ConocoPhillips activities, from sources not owned or controlled by the company.

Read more about GHG Protocol definitions.
Scope 3 Emissions
For oil and natural gas exploration and production companies, scope 3 emissions fall primarily into the "use of sold products" category. Our GHG intensity target does not cover scope 3 emissions. As an exploration and production company with no downstream assets, we have no control over how the raw materials we produce are transformed into other products or consumed. We do, however, calculate our scope 3 emissions annually based on net equity production numbers. In 2019 our scope 3 emissions increased by 9%, primarily due to increased net production.
Source
Estimated Million Tonnes CO₂

e

Upstream transportation and distribution
2.7
Downstream transportation and distribution
4.9
Processing of sold products
14.2
Use of sold products
173.4
Another issue with scope 3 emissions is that they are someone else's scope 1 or 2 emissions. For example, the scope 3 emissions from refining the oil we produce are a refiner's scope 1 emissions. The combustion of that oil in the form of a finished product such as gasoline are also scope 3 emissions for the producer of the oil, the refiner and the marketer. There is double counting throughout the economy. Likewise, our scope 3 combustion emissions for natural gas might be an electricity producer's scope 1 emissions and our own scope 2 emissions. This is one of the reasons that to date, only integrated oil and gas companies have set scope 3 net-zero targets.
As an exploration and production company, we will concentrate on reducing the emissions that we own and control, and then advocate and help develop policy that impacts scope 3 emissions through a price on carbon. This is why we were a part of US Climate Action Partnership in 2007 and a founding member of the Climate Leadership Council in 2018.
Flaring
Flaring is a regulated and permitted process for the controlled release and burning of natural gas during oil and gas exploration, production and processing operations. Flaring is required to safely dispose of flammable gas released during process upsets or other unplanned events and to safely relieve pressure before performing equipment maintenance.
Flaring is also used to control and reduce emissions of volatile organic compounds from oil and condensate storage tanks, and to manage emissions at well sites that lack sufficient pipeline infrastructure to capture gas for sale. We have reduced flaring by utilizing closed-loop completions, central gas gathering systems, vapor recovery units, directing condensate to sales pipelines and improving uptime through operational excellence (a major focus for all our operating facilities). Read more about our 2020 endorsement of the World Bank Zero Routine Flaring by 2030 initiative.
In 2019, our total volume of flared gas was 24.6 BCF, an increase of 13.8% from 2018. This was primarily related to gas infrastructure constraints for our Bakken asset as production growth exceeded midstream pipeline and processing capacity, resulting in excess gas being sent to flare rather than to sales. Part of the increase was also due to calculation methodology improvements by several assets in Lower 48. Flaring increases were partly offset by reductions at APLNG and the Bayu Undan field and our UK disposition.
Our Bakken team has identified several measures to reduce flaring, including working with our midstream partners to increase processing capacity and provide forecasts to improve their ability to plan. In the Permian, we have built and operate our own gathering system, which enables more flexibility and connections to multiple third-party processors. We have also developed and implemented facility design changes to reduce (or eliminate) flaring from tanks, and we utilize an internal decision tree to optimize our operations to reduce flaring during third party outages.
Methane
Managing emissions, particularly methane, is one of our key priorities. Reducing emissions, even the small equipment leaks known as fugitive emissions, is a key aspect of our Global Onshore Well Management Principles.
We have standard operating procedures to detect and repair leaks. Audio-visual-olfactory (AVO) inspections are routinely performed during operator rounds to identify any leaks or other issues. Leak detection and repair (LDAR) is a work practice used to identify and quickly repair leaking components, including valves, compressors, pumps, tanks and connectors, in order to reduce GHG emissions and increase efficiency.
At many of our locations, especially high rate producing wells and stand-alone compressor stations, we have a periodic voluntary fugitive monitoring program using forward-looking infrared (FLIR) cameras to enhance our LDAR. FLIR cameras create real-time images of gases or liquids leaking from pipes, vessels, tanks and other types of process equipment. FLIR surveys are completed at new or modified well sites, and subsequent monitoring surveys are conducted at least annually. We fix leaks as soon as feasible, with many leaks repaired either the same day or within a few days of being detected. If additional time is required, we follow standard maintenance processes by adding the required repairs to our maintenance tracking system. After repairs are completed, inspections ensure that the repairs are successful. We implement engineered solutions and/or operational changes if we identify developing trends of systemic hardware problems.
In 2019, methane emissions increased by 0.1 million tonnes of CO₂e due to increased development in our Lower 48 assets, increased flaring caused by gas infrastructure constraints for our Bakken asset as production exceeded midstream pipeline and processing capacity, and calculation methodology improvements.
Despite increased activity in 2019, we maintained a low methane emission intensity rate of 0.23% of natural gas production and 0.09% of total hydrocarbon production. Methane emissions reductions continue to be a key focus of our emissions reduction efforts. In 2020, we set a goal to reduce methane emissions intensity by 10% by 2025, which is 2.7 kilograms methane CO2e/BOE. We are also adding continuous methane monitoring devices to our operations, with a focus on our larger Lower 48 facilities, with the expectation that two-thirds of our Lower 48 production will be monitored for emissions by 2021.
Read more about our methane intensity reduction target.
Energy Efficiency
We continually strive to make our operations more energy efficient. This can provide an environmental benefit through reduced emissions, as well as an economic benefit through lower production costs or greater sales revenue. Through the natural decline of production, as our fields diminish in size, they tend to require either the same, or in some cases, even greater amounts of energy to extract the product and transport it for processing or refining. Newer operations tend to be more energy intensive as well.
Total energy consumption in 2019 was 225 trillion British Thermal Units (BTUs), a decrease of about 4.6%. The reduction was due to our UK disposition, a turnaround at Surmont and low production at Darwin LNG. This was partly offset by increased field gas compression for our Eagle Ford and Indonesia assets and increased production at APLNG. Approximately 98% of our consumption was from combustion of fuel for our own energy use with the remaining from purchased electricity.
Low-Carbon Emitting Products
In 2019, we supplied consumers with approximately 1 trillion cubic feet (or 2.8 billion cubic feet per day) of natural gas. To put this in perspective, if all the natural gas we produced in 2019 had been used to replace coal for electricity generation, GHG emissions would have been reduced by approximately 52 million metric tons, more than double the company's combined scope 1 and scope 2 emissions for the year.
CDP
The annual CDP survey collects a wide range of information concerning corporate efforts to manage climate change issues effectively and drive emissions reductions. It includes an emphasis on governance, strategy, actions and reporting to try to provide a complete view of companies' performance for comparison. It also provides a view of sector performance. ConocoPhillips has participated in the survey since 2003. Our most recent CDP submission can be found in the 2020 CDP document.
Read more about our Performance Metrics and SASB metrics.