By taking a personal approach with communities, we are able to build strong relationships and an environment of transparency, courtesy and trust. This allows us to better manage potential risks and impacts to local stakeholders and our business.
Listening to Understand Our Stakeholders
We proactively engage our stakeholders to understand their interests, concerns and culture.
Canada
Due to the close proximity of Indigenous communities to our Canadian operations, we have developed a values and interest assessments (VIA) process to guide practitioners as they work with those communities to create positive, sustainable outcomes. Our stakeholder engagement team begins by building relationships through authentic,
collaborative dialogue with members of the community. Next, we work with the community to create a shared vision and to discuss ways we can work together. The third stage centers around planning and focuses on collaboratively prioritizing ideas and creating structures and processes for working together. The ideas are turned into a shared action plan to be implemented and assessed. The VIA process can result in formal agreements with interested Indigenous communities in close proximity to large developments, such as the Halfway River First Nation (see below for more information). For those communities, agreements formalize a respectful relationship and the mutual promises between our company and communities. Each agreement is focused on shared value and addressing the specific promises, obligations and benefits for both parties, and, like many agreements, is confidential. Agreements include a process to resolve concerns about rights infringement from our activities and language committing both parties to work toward mutually beneficial relationships.
Colombia
Working with agencies of the Colombian national government, we have engaged with stakeholders, including local communities, over 250 times from 2016 through 2019, listening to concerns and addressing questions about our project plans in the Middle Magdalena River Valley. These efforts have been successful in securing the support of local leaders and the vast majority of community members, many of whom had questions and concerns at the beginning of the project. 2019 meetings focused on the legal, technical, social and environmental aspects of our plans. This included explaining the use of hydraulic fracturing in unconventional reservoirs, our global expertise and our stakeholder engagement principles which apply to our activities wherever we operate. Read more about our operations in Colombia.
U.S. Lower 48
In the Eagle Ford, our Citizens Advisory Committee, comprised of community leaders from DeWitt, Karnes, Live Oak and Bee counties, meets quarterly to discuss industry-related issues. We conduct polls to determine the topics important to community members to be addressed at each quarterly meeting. Local elected officials participate in our Leadership Roundtable, where we discuss our operation plans and listen to concerns and suggestions. Our Leadership Roundtable in the Bakken brings together local government and civic leaders to discuss our development plans and to collaborate on key community issues.
Integrating Stakeholder Input into Business Decisions
As we understand stakeholders' priorities and concerns, we seek to integrate that input into our plans and operations.
Alaska
We meet frequently with North Slope community leaders and residents to get feedback and gather local and traditional knowledge to help protect their subsistence resources and to share information about current and planned operations.
In 2019, those discussions led us to change our development plan for our Willow project. Instead of building a temporary gravel island as a staging area to move infrastructure to the remote project site, we have proposed relying on ice roads instead. This new module delivery option addresses concerns from North Slope communities about a gravel island's potential impacts on marine mammal subsistence activities. It also reduces the amount of gravel needed for the project (reduces the size of the mine site and amount of gravel mining activity) and the overall footprint of the project. Read more about our Willow project.
As we built a road and drill site in 2019, we also worked with the gravel pit operator and mine site owner to modify the gravel mining procedure to reduce the noise and sound vibrations associated with the gravel blasting operation. This included utilizing technology new to the North Slope to reduce the sound wave and vibration impacts from blasting as well as conducting daily vibration monitoring in Nuiqsut. The vibration monitoring data was combined with our air quality monitoring data to produce weekly reports which were shared with the community during the winter construction season.
We also have robust environmental study programs at existing operations that include air quality monitoring stations; caribou, bird and fish surveys; hydrology studies; lake water quality and recharge monitoring; subsistence hunting studies; and tundra rehabilitation. Extensive environmental baseline studies are conducted in all potential areas of new operations. New projects are subject to rigorous permitting and public review processes.
Canada
In Northeast British Colombia, we continue to work with local communities as we develop our Montney project. We are implementing a "life of project" agreement with the Halfway River First Nation, which has created a collaborative process around community engagement and contracting. As a result of our engagement, we have created an innovative water management plan for the development that mitigates concerns about water use as well as truck traffic and has steadily increased our local Indigenous contracting spend. We also continue to partner on a variety of community initiatives that focus on the communities' evolving interests. Hear more about our ongoing relationship with the Halfway River First Nation.
Indonesia
In 2019, we conducted 12 safety training sessions for nearly 600 people living close to our operations in Indonesia. Participants learned about pipeline and road safety and forest fire awareness and how to report issues so they can be addressed in a timely manner.
Lower 48
In 2019, our Eagle Ford employees worked closely with a school board, county officials, transportation agencies and educational institutions to advocate for re-routing oilfield trucks to minimize noise and traffic near a school. This resulted in truck traffic being re-routed and the county working with the state to build a new road. As part of a multiyear road safety initiative, we have also partnered with Safe 2 Save and local restaurants to raise awareness to help combat distracted driving. In addition, a ConocoPhillips-led industry effort removed over 451,000 pounds of trash from local roadsides by the end of 2019.
We have been an active member in the Permian Road Safety Coalition (PRSC) since 2015 and became a board member in 2019. The goal of the coalition is to lead a collaborative cross-industry effort with oil and gas operators, service and transportation companies, nongovernmental organizations and governments to improve road safety and reduce the number of traffic-related injuries and deaths in the Permian Basin.
Building Local Economies
We work with stakeholders to support economic development through capacity-building and contracting opportunities for local businesses.
Canada
For more than two decades, we have worked with Indigenous-owned businesses near our oil sands operation to develop local capacity. The region near our Surmont project is home to five First Nations communities and six Métis Locals. In Canada, Aboriginal Peoples (who consist of First Nations, Métis and Inuit) have constitutionally protected rights to their traditional territories and ways of life. The Cooperation and Mutual Benefits Agreement (CMBA) with Fort McMurray First Nation (FMFN) is a culmination of years of engagement to identify mutual areas of interest and benefit, and build trust, respect and a formal commitment to a stronger relationship. Leaders meet regularly to discuss:
Local contracting opportunities and capabilities.
Shared goals for local business benefits and environmental monitoring.
Opportunities to support environmental stewardship of the Surmont Project and FMFN community values and vision.
Indonesia
We helped establish a Rubber Farmers Group in 2002 in collaboration with the local rubber research institution, Sembawa, to improve the quality and quantity of latex production as well as the marketing capabilities of farmers. Approximately 1200 acres of rubber plantation have been rejuvenated and are managed by 560 individual farmers from the villages near our operations in the Musi Banyuasin regency, South Sumatra province. Our business unit, through Sembawa, provides quality rubber seeds and fertilizers, as well as regular mentoring and supervision - from planting trees to latex production. The group has given farmers direct access to local rubber factories and a stronger bargaining position that has resulted in higher income.
Strengthening Communities
We work with stakeholders to identify and support programs that will make a real difference in communities.
Alaska
50% of federal revenue from NPR-A is available to communities impacted by oil and gas development through a mitigation grant program. As a community impacted by development in the area, Nuiqsut is eligible to receive funding for community projects from this program. We have partnered with the City of Nuiqsut, the Native Village of Nuiqsut and the Kuukpik Corporation to create the Nuiqsut Community Development Foundation, a nonprofit focused on assisting the community to access grants by providing services for project planning, grant writing and administration, accounting and project execution. By building this capacity, the community was able to increase its grant applications from $1.4 million in 2018 to $4.5 million in 2019.
In 2019, we also sponsored the attendance of 15 Nuiqsut high school students at the Excel Alaska program in Anchorage in 2019 and early 2020. The vocational program offers students hands-on life-skills training ranging from budgeting and personal banking to resume writing and job interviews. Our ongoing CareerQuest program provided numerous opportunities for Nuiqsut high school students to gain valuable work skills. This included work experience at our Alpine facility and with local businesses. Activities included office procedures, phone etiquette, customer service and standard first aid with automated external defibrillator for adults, children and infants. Eighteen students participated in the program in 2019.
Stakeholders in the communities near our operations have a unique relationship with the land and wildlife that goes back generations. In 2019, a ConocoPhillips team helped Nuiqsut resident Lydia Sovalik relocate her family's cabins along the eroding Nigliq Channel riverbank. Sovalik's brother built the two cabins in 1950 on a plot of land her father obtained in 1948. After hearing that the family was in danger of losing their two historic cabins, a crew worked with Sovalik's grandson to move them away from the channel, so that future generations could continue subsistence activities on their land. Recognizing and respecting the choice of Indigenous communities to live as distinct peoples, with their own cultures and relationships to the land, is a cornerstone of our operations. Watch a video about the effort.
Australia
We started a six-year scholarship program with Yalari to fund a Queensland Indigenous female student to study at an all-girls school in Brisbane, Australia in 2019. Yalari is a not-for-profit organization that provides secondary education scholarships for Indigenous children from regional, rural and remote communities. Through ongoing engagement with Indigenous communities, we aim to create long-term benefits through education. Read more about our investment in Australian communities.
Canada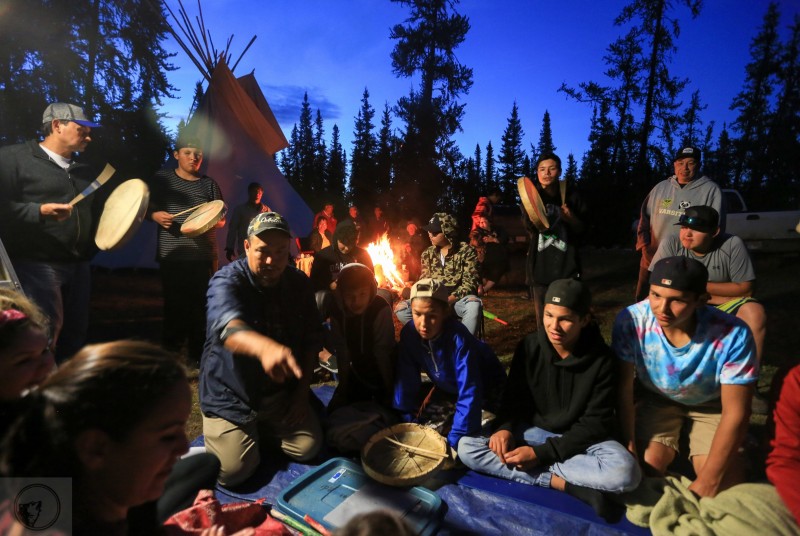 In 2008, ConocoPhillips partnered with other oil sands companies, Indigenous communities and community organizations to create the Sustainable Communities Initiative, a social innovation project focused on youth empowerment and designed to build stronger relationships with and benefit nearby communities in the oil sands region. The project has evolved from joint planning and programming with the target communities to the communities' scoping the long-term sustainability of the project independent from industry. Beginning in 2019, community boards became independent and accountable for managing their own social innovation projects. To facilitate this, they implemented a strategy to diversify their partners, strengthen board governance and actively engage a variety of sponsors. One of the project's success stories features Elliot Deltess, a young community member from Janvier, Alberta, who now works at our Surmont oil sands facility. Read more about Deltess and the Sustainable Communities Initiative.
Colombia
In 2019, we continued to support soccer programs near our project in Colombia. This included funding soccer balls, uniforms and gloves for women and men's teams and providing logistics for a local tournament. We also funded four workshops for children in the area to create awareness about the importance of environmental conservation. Over 75 children took part in the program along with three local teachers, who also received the training materials so they can replicate the workshop for more children.
Indonesia
In 2019, we worked to help local communities live healthier lives by providing 122 village health providers in six villages with the skills to deliver better health services. Our support was recognized by the Governor of South Sumatra with a Health Education Award. Since 2002, we have also had a scholarship program that provides financial assistance to local university students and elementary and high school teachers to obtain undergraduate degrees. More than 5,000 students from villages near our operations in the Musi Banyuasin regency have received support. The program has also helped recipients develop their social and entrepreneurial skills, which they can then apply to helping other members of their communities.
U.S Lower 48
We are a member of the Permian Strategic Partnership (PSP), a coalition of energy companies and regional leaders that is working to address current and future challenges associated with oil and gas development. In 2019, the PSP brought doctors into rural communities, funded the creation of a charter school system to build more schools, funded a new vocational/tech school in Hobbs, New Mexico to address workforce needs, and brought the first ever federal highway BUILD grant to the state. It is also hiring experts to help small towns apply for community grants.
As part of our ongoing community giving in the Permian, our sponsorship of the Bad Boy Blast sporting clays tournament has raised almost $3.2 million since 2004 for local fire departments and crime stopper organizations in West Texas. In the Permian region of southeast New Mexico, our golf tournament and silent auction has raised $1.55 million since 2014 for the Make a Wish foundation and other charities serving Lea County.
Globally
We support charities near our operations by funding programs that support education, civic and social services, arts, health and the environment.
2015-2019 Contributions
Alaska
$21 million
Canada
$10.8 million
Lower 48/Corporate
$136.7 million
Australia/East Timor
$6.7 million
Norway/United Kingdom
$4.5 million
Other
$11.9 million
Engaging employees
Our employees strive to improve the quality of life in the communities where we live and work.
Alaska employees contribute more than 3,500 hours each year serving nonprofit organizations and represent the industry on many multi-stakeholder boards.
In 2019, 764 ConocoPhillips Canada staff volunteered more than 2,200 hours on a range of activities including serving lunches at the Calgary Drop-In Centre, making lunches for kids through Brown Bagging for Calgary's Kids, planting trees in local City of Calgary parks and helping children learn to read at Calgary's Connaught School.
Eagle Ford employees have contributed more than 8,220 hours serving nonprofit organizations since 2015.
With our Bakken operations close to the Little Missouri State Park, our employees volunteer each spring to prepare the campground facilities and riding trails for tourist season. In 2019, 34 employees contributed 170 hours of time to the effort. View more about our stakeholder commitment in the Bakken.
Read more about some of our efforts around the globe.