Wayne Saverud: How his hobby is helping fight COVID‑19
Wayne and Cheryl Saverud at their home in Graham, Washington.
By Gus Morgan
ConocoPhillips employee Wayne Saverud has been 3D printing personal protective equipment (PPE) for health-care workers and first responders in the Seattle area.
To date, Wayne estimates he's made around 500 plastic face shields and 400 ear savers.
He got involved after his wife, Cheryl, told him about a local group that was 3D printing PPE.
"I joined that group, and at first, we were making PPE for local hospitals in surrounding areas. It quickly grew to provide PPE for a lot of the major hospitals in the greater Seattle area, along with local first responders."
Wayne's 3D-printing community has made more than 2,500 face shields and more than 1,000 ear savers.
"3D printing was a hobby of mine and I'm always looking for something to print, so this was perfect. Not only did I have something to print, but I was printing something that made it safer for people to work around COVID-19."
As a junior engineer, Wayne works on ConocoPhillips Polar Tankers, a fleet of five ships that transports crude oil from Alaska to the U.S. West Coast and Hawaii.
Wayne returned home on paid leave to his house in Graham, about an hour outside of Seattle, just as the virus started to hit full swing. While off duty, he's dedicated his time to creating PPE.
First responders have been appreciative of the group's efforts.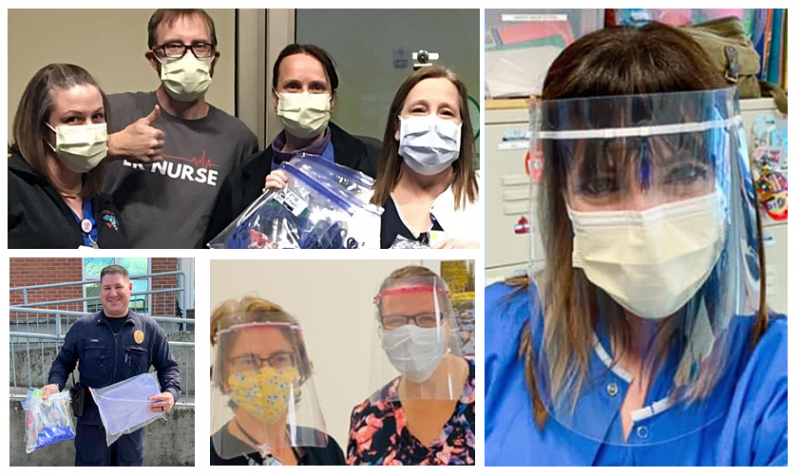 "They really love the ear savers. First responders often wear face masks their whole work shift, and the elastic straps make the ears sore over time. The ear savers hold the elastic straps behind the head and off the ears."
When Wayne first started making the face shields, he only had a few spools of the required type of filament.
"I went through that pretty quick and we couldn't afford to keep buying the filament."
It looked like he was going to have to stop making the PPE until Cheryl suggested he hold a Facebook fundraiser.
The fundraiser exceeded Wayne's expectations.
"Because of the charity of friends and co-workers, I raised more than $3,000. The money has gone a long way to keep our printers and cutting machines in operation."
When Wayne returns to his Polar Tankers duties in early June, his 3D-printing efforts will be put on hold.
"I'm unable to bring a 3D printer with me, it's just way too big. But if there is still a need for 3D-printed PPE when I return home in the fall, I'll continue to make it then."
In the meantime, Cheryl will continue to cut out the clear plastic shields while he's at work.
"She'll turn those in and someone will attach them to the 3D-printed parts made by someone else in the group."
---
Wayne Saverud
Job title: Junior Engineer, ConocoPhillips Polar Tankers
Job duties: Wayne works as needed on any of the five ConocoPhillips Polar Tankers, assisting with vessel maintenance. He handles everything from painting to helping overhaul the main engines. Wayne's work tours average 75 days, and then he returns home for around 60 days.
Quick quote: "The 3D printing community is really awesome. I chat with makers like myself from all over the world, and many of us stepped up and helped our local communities. I've got a friend in New York City who was in the heart of one of the worst spots to be affected, and he was printing out PPE in his little apartment for the local facilities. I know of makers that live in Malta, Great Britain and Croatia who were making PPE for their local communities. Joel Telling, known as the 3D Printing Nerd, helped spread the news to the 3D printing community that we can do our part to help out."