Getting technical with Texas Tech
ConocoPhillips finds the perfect spot to enhance its cross-functional training
by Gus Morgan

By collaborating with Texas Tech, ConocoPhillips recently took its technical training to a new level.
ConocoPhillips and Texas Tech University have a longstanding relationship. The company actively recruits for multiple functions on campus and sponsors the ConocoPhillips Center for Engineering Enrichment and Diversity that supports engineering students through mentoring and enrichment efforts, including summer academic bridge programs, scholarships and STEM outreach. ConocoPhillips awarded 45 scholarships to students in 2018 and has impacted 125 engineering students and mentors through its academic bridge program.
Earlier this year, an unexpected training opportunity emerged after a group of ConocoPhillips engineers visited the Lubbock campus to tour petroleum laboratories in the Fuller Petroleum Engineering Research Building.
DISCOVERING THE PERFECT PLACE FOR HANDS-ON TRAINING
While at the campus, the group stopped by another attraction, the university's Oilfield Technology Center, the unicorn of hands-on training facilities.
The unique resource features a mock well site that looks as if it's been plucked straight out of the Permian Basin, with a test well and a production battery with processing equipment and gas-treating equipment.
As only water and nitrogen flow through the training site, students can safely open and close valves, see flow meters and handle the equipment. Adjacent to the mock well site is a modern classroom facility where students can view cutaways of oilfield equipment.
AN OPPORTUNITY PRESENTS ITSELF
Impressed with the Oilfield Technology Center, Larry Hain, engineering advisor, Mid-Continent business unit, could see its potential as a hands-on training location for ConocoPhillips employees, especially for those looking to enhance their facilities engineering skills.
"I thought it would be an awesome place to train people because they have all the equipment there," Hain said. "They also have cutaways of most of the major equipment that we use, so you can see the insides."
Hain learned that Texas Tech had been trying to get the test well at the Oilfield Technology Center operational since 2008, when the well was shut in. They needed a variable speed drive with well controller to make the facility fully operational.
In short order, ConocoPhillips stepped in to help remedy the situation (see sidebar). ConocoPhillips bought and donated the equipment to Texas Tech; in kind, Texas Tech told ConocoPhillips it could use the Oilfield Technology Center for free if it wanted to hold a training class there.
EMPOWERING ENGINEERS WITH NEW SKILLS
In late May, ConocoPhillips took Texas Tech up on its offer. A group of employees, mostly from Midland, Texas, traveled to Lubbock to participate in a technical training class, "Facility Engineering Training for Non-Facility Engineers."
It was a milestone moment for ConocoPhillips. It marked the first time since the inception of this facilities engineering class in 2016 that the company was able to include a hands-on training component.
'WE'VE NEVER HAD ANYTHING LIKE THIS'
"We've been thinking about doing this for years," said Jim Harris, technical learning advisor for process and facilities engineering, who taught one of the class modules. "Kudos to the Mid-Continent business unit for making it happen. This adds another dimension to our training. It makes it much more hands-on than just sitting in a classroom and trying to talk about it. It's unique for our discipline, and it's very valuable."
The cross-functional training class mixed lectures with hands-on training. Participants learned the functions of well-site equipment and how fluids flow through a facility. They even participated in a facility design project. Topics included flow lines, transfer lines, separators, oil treaters, skim tanks, water pumps, compressors, flares, hazard identification, risk assessment, electrical-area classification and cost estimating all packed into a two-day training exercise.
THE POWER OF VISUAL LEARNING
Mark Helferich, lead facilities engineer, was the lead instructor for the class and taught most of the modules. He said being able to see the equipment helped participants better absorb the content they learned in the classroom.
A SOLUTION TO A TRAINING GAP
In his duties with the Mid-Continent business unit, Hain had been reviewing the skills of the business unit's engineers and identified a training gap. He found that production engineers, especially those with two to four years of experience, knew little about facilities engineering. And on the flip side, facilities engineers had little knowledge about production engineering.
To fill this gap, additional content was added to the "Facility Engineering Training for Non-Facility Engineers" class, and Hain taught several of the modules in the course. The resulting curriculum provides fit-for-purpose, cross-functional training applicable to other business units.
Although the class was targeted toward production engineers to help them better understand the challenges faced by facilities engineers, it was also designed for less-experienced facilities engineers. In addition, chemical, electrical and mechanical engineers joined the training. Even an environmental supervisor and three interns took part.
"It's great to get your hands on the equipment that's being used in the field," said Production Engineer Stephen Arnold. "Being able to come out here is a great learning experience. And Texas Tech is a great place to do it."
AN ENGAGING EXPERIENCE
Elaine Nguyen, an asset integrity engineer, said seeing and touching the equipment made for an engaging experience.
The training, Nguyen said, left her with a better understanding of certain well-site equipment, such as compressors and flares. In addition, she learned how to size production equipment and how to design facilities. She especially liked how the classroom lectures were followed by exercises, enabling her to apply what she learned.
AN INTERN'S PERSPECTIVE
G.E. Roose, a ConocoPhillips intern, said the training would help him in his summer job duties, noting that the scale models and cutaways were especially helpful.
"Now I'll know what equipment I'm around and working with when I'm out there," said Roose, who just finished his freshman year at the Colorado School of Mines. "I've seen a lot of this equipment in diagrams, but I'm glad I got to see it in person before going out in the field."
'VERY VISUAL IN OUR TEACHING'
Marshall Watson, department chair for the Bob L. Herd Department of Petroleum Engineering, said much of ConocoPhillips' donations over the years have gone toward building the Oilfield Training Center.
In addition to textbook knowledge, Watson said, students must grasp the physicality of engineering. To do that, he said, they need to build and design the equipment and see it at work.
"While students do well with computers and textbooks," he said, "they often have difficulty understanding how machinery works, and moreover, how all the equipment works together."
Hands-on technical training plays an important role in Texas Tech's engineering program, Watson said.
"We're very visual in our teaching here in the department of petroleum engineering," he said.
STRONGER TOGETHER
Texas Tech has extended an open invitation to ConocoPhillips to use the facility again.
By working together, ConocoPhillips and Texas Tech have shown that collaboration, coupled with innovative thinking, can lead to great things in business and academia.
---
About the Oilfield Technology Center
Texas Tech University's Oilfield Technology Center plays a valuable role in the school's petroleum engineering curriculum. It serves as a research and teaching facility for undergraduate and graduate petroleum engineering students, giving them hands-on experience in the design and operation of typical oilfield equipment.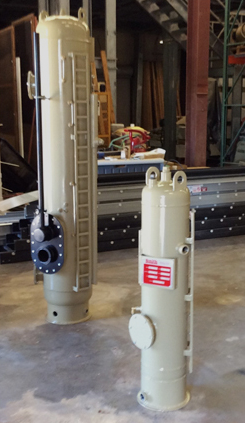 The facility has a test well, a production battery, a pad with a static display of high-pressure gas treating equipment and a combination shop/classroom/office building.