Riley Needham: A lasting legacy
by David Austin
Riley Needham would have celebrated his 50th year with ConocoPhillips in January.
An esteemed reservoir engineer, he passed away on Dec. 26 at the age of 83.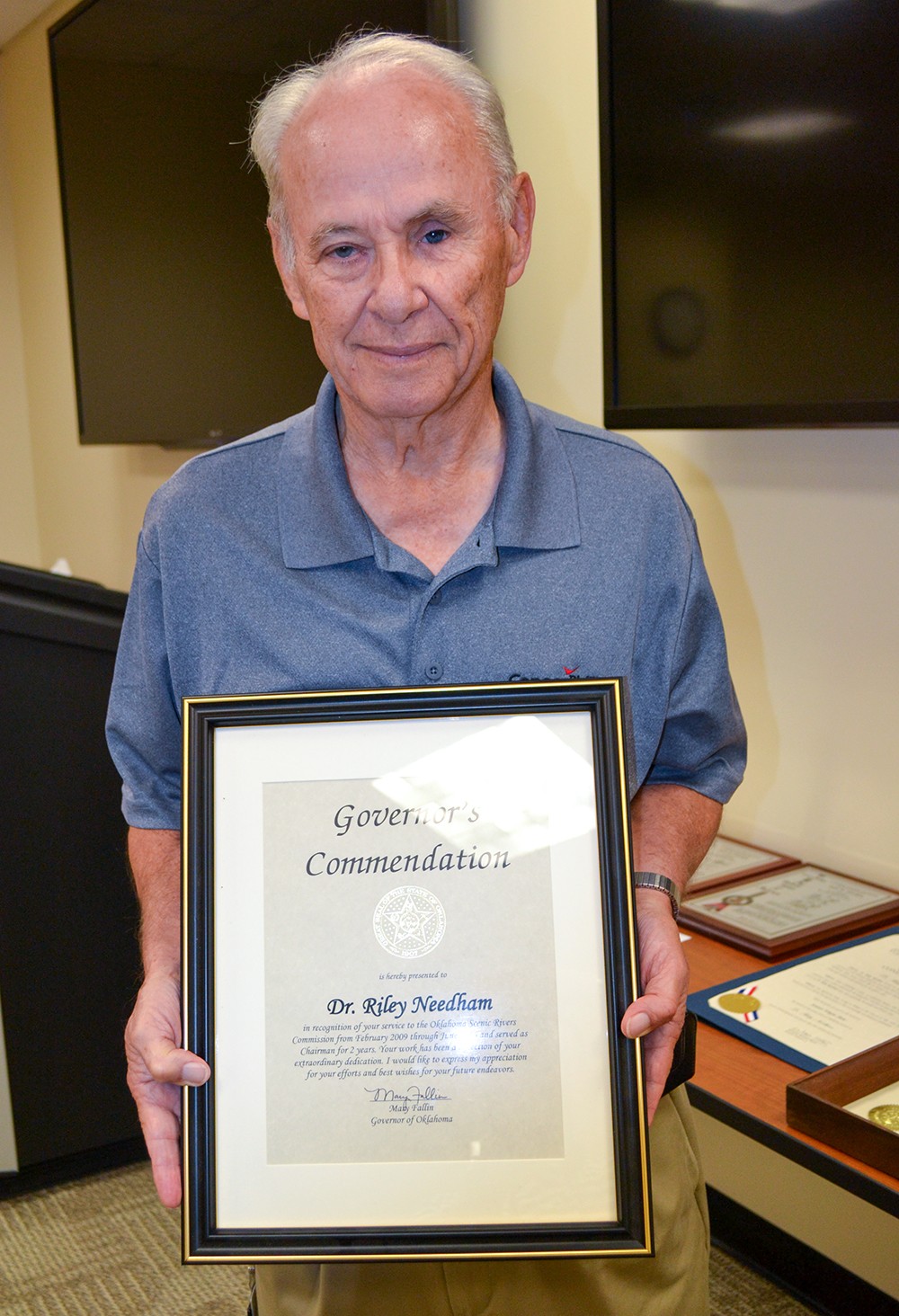 Riley's accomplishments were numerous. He was awarded 36 U.S. patents, authored numerous technical publications and worked on several high-profile projects. He was instrumental in the company's decision to lease wells in the Ekofisk field in the North Sea and has helped sustain its success. When he wasn't doing outstanding work in his chosen field, he did his best to ensure that people in his native Oklahoma had access to quality water.
While Riley retired in 1992, he became one of just three employees to receive distinguished emeritus status allowing him to continue to serve in ConocoPhillips' subsurface lab in Bartlesville, Okla.
The lab held a celebration in September 2019 in recognition of Riley's 34th patent. Several people spoke of their respect and admiration for a man who had achieved so much. His daughter Karla Chapman, who works for ConocoPhillips as ID Management password vault system administrator, was there. Riley received his 35th and 36th patents just days later.
"I've always enjoyed my work," said Riley during the event. "I enjoy discussing ideas with different people. Often, the real solution is somewhere between your idea and theirs. And, as you work toward that solution, you can always learn something."
Learning and knowledge were essential parts of Riley's life. One of nine children, he graduated from Grove High School in Oklahoma, where he excelled in physics and geometry. While his family didn't have the resources to send him to college, the school district superintendent saw potential in the young man and offered to assist.
"He told me if I could find enough money to attend the University of Oklahoma for the first year, he'd find the money to pay for the next three," said Riley. "But a condition was that I had to study geology or petroleum engineering."
While Riley didn't know much about either field, he settled on petroleum engineering. To help pay for his freshman year, he applied to receive funds through an educational foundation. Riley's application was accepted, but it also came with a stipulation: If he let his grades slip, the funding would be pulled. He didn't, and a few years later, he had earned a bachelor's degree.
With one degree in hand, Riley soon had an opportunity for another. The U.S. Department of Defense had identified a shortage in the number of students pursuing doctorate degrees in engineering and would help fund those willing to pursue a Ph.D. Riley jumped at the opportunity and continued at OU to complete his doctorate.
"While I was in school, I worked at the OU research lab," said Riley. "That experience was rewarding and taught me all kinds of things."
During summer breaks, Riley often found work in the energy industry at roles including process engineer and lab technician. Once he had earned his Ph.D., Phillips Petroleum Co. offered him a position in its research lab. He accepted the offer and made his way to Bartlesville.
Early in his career, Riley and his team were called upon to conduct critical research. Phillips was trying to decide whether to lease wells in the Norwegian sector of the North Sea. Core samples looked promising, but the company wanted the core samples to be reexamined by their own labs.
"When we saw the initial report from the commercial lab, it didn't add up," said Riley. "So, we carefully cleaned and reexamined the cores. The results we got were much different.
"Ultimately, the decision was made to lease wells at Ekofisk."
The decision was a good one. The Ekofisk field remains a legacy asset and is expected to keep producing until at least 2050. Riley continued to play a role in Ekofisk, directing technical teams addressing sea floor subsidence and water flooding.
Riley enjoyed spending time with his family and at his cattle ranch in northeastern Oklahoma. He developed an interest in water quality protection and volunteered his time to the cause for more than 20 years. His insight was so respected that he was invited to make a presentation on curbing water pollution before the Oklahoma state legislature in 1998.
At the lab celebration in September, several of Riley's plaques and awards were on display, commemorating milestones over the course of an outstanding career.
"I'm not quite sure what my 50-year anniversary with the company should feel like," said Riley. "It certainly hasn't been a drag though."