ConocoPhillips seeks a digital edge in its quest to optimize rod pumps
By Gus Morgan
At 2 p.m., the downhole rod pump's fillage dropped to 20 percent, causing it to shut down.
Puzzled by this turn of events, Mike Poythress, a production engineer who specializes in artificial lift, found himself wishing for more information.
A review of the dynamometer cards indicated a precursor event several hours before the rod pump's fillage crashed, impacting the well's production.
Was the well truly "pumped off," a situation when there is no fluid available to enter the pump as the system has temporarily outrun the well's ability to provide fluid? Or was it gas interference, giving the indication of a pumped-off event?
Without more data, Poythress was left to speculate on the problem.
Rod-pump IoT program
GOAL: Reduce cost of supply by optimizing production and minimizing lifting costs.
PROBLEMS: Underperforming rod-pumping wells with gas interference; high failure frequency; high workover costs; limitations of existing supervisory control and data acquisition (SCADA) system: data, time-consuming analysis
SOLUTIONS: Employ emerging technologies, such as Internet of Things, machine learning, cloud computing; update hardware and communications network
SPONSORS: Great Plains Business Unit, Global Production
COLLABORATORS: Analytics Innovation Center of Excellence; Information Technology; Operational Technology; Technology Value Optimization
ConocoPhillips is looking to demystify such operational issues with its rod-pump Internet of Things (IoT) program, an optimization endeavor that is currently in the data-analysis phase.
This technical and commercial initiative is an example of how ConocoPhillips is leveraging data analytics to reduce cost of supply by optimizing production and minimizing lifting costs.
More data, more insight
ConocoPhillips uses rod pumps to lift fluids (a mix of oil, gas and water) to the surface when a well's downhole pressure isn't sufficient for it to flow naturally.
To date, optimizing the company's 2,700 rod pumps has proved challenging, an issue rooted in hardware and communications network limitations.
Such limitations have constrained the amount and transmission frequency of data.
That's why Poythress and his colleagues are excited about the company's rod-pump IoT program, an optimization endeavor that seeks to leverage every last drop of data that flows from its wells.
"In this case," he said, "we are trying to have a better understanding of what's going on so we can operate and manage our wells better. Every stroke costs us money. So we want to know how can we dial our pumps in for the lowest cost per stroke."
The controllers that operate ConocoPhillips' rod pumps record data onto a dynamometer card. This data may reveal a myriad of issues, such as a defective pump, leaky tubing or gas interference in the rod pump.
But in most cases, production engineers only get one or two dynamometer cards each day. Without more data, Poythress said it's difficult to analyze how a rod-pumping system operates over an extended period of time.
Consequently, many of these machines — also known as beam pumps — either over pump or under pump. Moreover, fine-tuning them for maximum performance is challenging, as each well is unique and behaves differently throughout its life cycle.
Horizontal wells are especially challenging, Poythress said, as gas may enter the pump and indicate a pumped-off condition, limiting the hours a well is producing each day.
"We only have a couple of data points out of 8,000 strokes," Poythress said. "So how do I know what's going on without more data? We are trying to make business decisions out of one or two pictures from an 8,000-picture movie. We make a lot of assumptions."
A solution emerges
In 2018, data scientist Doug Hakkarinen, with the consultation of Poythress, presented "Reinforcement Learning for Rod Pump Optimization at the Edge" during a Shark Tank event at the company's Analytics and Innovation Symposium.
The idea: What if ConocoPhillips could get higher resolution data from its existing controllers?
This would allow the company to capitalize on its existing equipment and gather additional data.
In turn, machine learning could turn that data into insight and help optimize the company's rod pumps and wells.
With additional data, Hakkarinen was confident he could deliver performance gains using machine learning.
"If I can predict the next stroke," he said, "I can control the well."
Such insight could help ConocoPhillips optimize production, reduce maintenance, lower electricity/utility costs and prevent downtime.
Hakkarinen's idea caught the attention of Matthew Pritchard, manager, Technology Value Optimization, one of the judges during the Shark Tank event.
Seeing its potential, Pritchard backed the project.
"It was clearly something we could help shape and fund going forward," he said.
That idea has grown and morphed into today's rod-pump IoT program
Moving ahead, step by step
After overcoming some initial hurdles, including pricing barriers and pandemic delays, the project has picked up speed.
The project team has obtained high-resolution data for analysis by adding IoT devices to existing controllers. These "edge" devices stream data from the pump controller to the cloud.
Now, data scientists with the company's Analytics Innovation Center of Excellence are analyzing that production data.
"We want to dial these pumps into the optimum state," said Anton Babaniyazov, director, Technology Value Optimization. "The size of the prize is amazing. We have 2,700 rod pump devices in the company."
Initial results have been promising, Babaniyazov said.
For example, one Permian pilot test revealed the benefits of having additional data: a reduction of strokes by 65 percent (with no production loss); a 54 percent increase in pump efficiency; and a 58 percent decrease in energy costs.
"This effort is not just a single project," Babaniyazov said, "this is a complex technology program with multiple vendors, hardware and software solutions. If we manage it right, we will gain synergy with the accelerated learning needed to reduce rod-pump failures (i.e. operating costs) and increase production or revenue. Both variables are a critical part of the cost of supply formula."
'This is going to be good'
While the rod-pump IoT program still faces numerous hurdles and decisions — such as vendor selection, data ownership and data management — its value propositions of efficiency gains and cost of supply reductions makes it a worthwhile pursuit.
And if research and testing validate its worth, the program could be fast tracked for accelerated adoption.
For Poythress, improvements to the company's rod pumps can't come soon enough. He likened the optimization effort to having Christmas presents under the tree, but not sure what's in the packages.
"They're heavy … maybe they have rocks in them," he said. "But my guess is this is going to be good."
---

Internet of Things reaches the oil field
A big enabler in the rod-pump optimization project is a technology called the Internet of Things (IoT), a digital ecosystem where connected smart devices provide insights and enable real-time decision making.
Adrian Hyde, Emerging Digital Technology, said IoT is changing the way ConocoPhillips monitors and operates its equipment.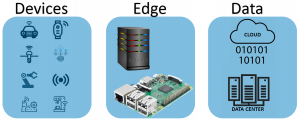 "The more data we have on how our equipment is operating," he said, "the more chances we have to make improvements."
Hyde said IoT devices are able to generate huge amounts of new operational data.
"Like the transition from watching slides to watching a video," he said, "now we get to see all the events that unfold between each of the slides, which paints a far more detailed picture of why certain things occurred.