From the desk of ConocoPhillips China President Mark Wheeler
China has come a long way in the 37 years since ConocoPhillips entered the country. As president of ConocoPhillips China, I'm constantly amazed by the transformation that is currently taking place in the country. The following article features many of the people, partners and work that continue to drive this business unit forward.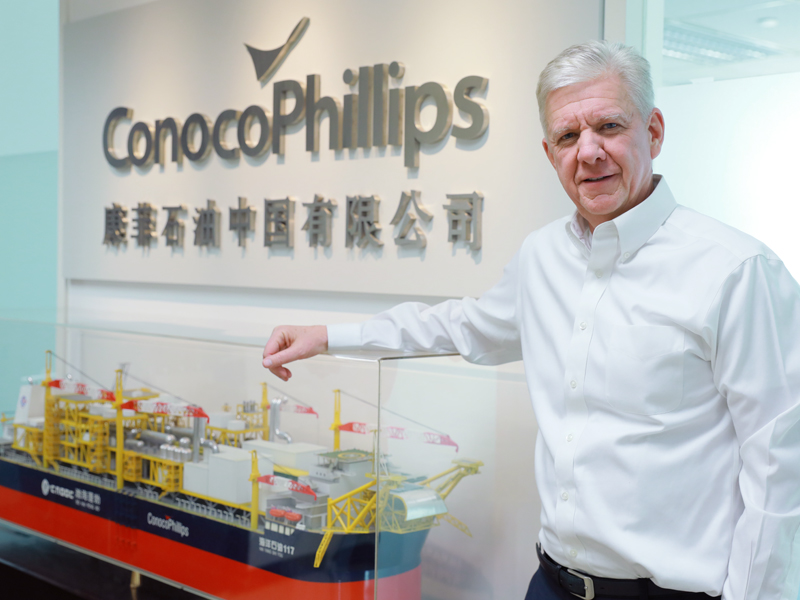 Since China began its reform and opening-up process in 1978, 600 million people have been lifted out of poverty, life expectancy has increased by over 10 years, and gross domestic product per capita has reached middle income levels. Affordable energy and foreign investment have both been essential elements of this story of national transformation and human progress, and ConocoPhillips is happy to have played a role.
For ConocoPhillips and China, a new era is unfolding. At ConocoPhillips China, we are driving significant activity and growth with our partners. The Penglai Oilfield is now entering the third phase of development and remains the largest field of its kind in China. We are pursuing a range of promising new business opportunities, including significant new development expansion and a 3-D full-field seismic program in Bohai Bay, Panyu field production extension in the South China Sea and expanded liquified natural gas (LNG) sales in China. In recent years, we have become the second largest LNG provider to Chinese buyers as approximately half our global joint venture production is being sold to them under long-term contracts.
Through our 37-year history in China, ConocoPhillips has become the largest producing international oil company in China. Our success is attributable to our early engagement and ability to work collaboratively with our two national oil company partners, CNOOC and Sinopec. Today these strong, mutually rewarding relationships enable us to have meaningful discussions at both the technical and management level, improving efficiency and knowledge sharing with our partners.
As our business continues to evolve and grow, people remain our most important asset. Our China team is dedicated and experienced, and we are working to take on some of the most important offshore energy developments in the country. At the same time, we continue to focus on personal development and training for our people.
I'm excited about our future in China. We have a talented team, great partners and lots of work ahead of us. I'm happy to share this spiritnow feature article so that everyone can appreciate the amazing growth of the Chinese market and how we at ConocoPhillips are helping to fulfill the country's energy needs for many years to come.