By Deddy Machdan


For more than half a century, ConocoPhillips has been a key provider of energy to the Republic of Indonesia.
In 1967, Conoco Indonesia was awarded its first cooperation contract, or production sharing contract (PSC), for the Barito Block on the mainland of South Kalimantan. Today, COPI has three PSCs, all onshore blocks: Corridor Block PSC and South Jambi B Block PSC, both located in South Sumatera; and Kualakurun Block PSC in Central Kalimantan.
"ConocoPhillips has been involved in safely and efficiently developing Indonesia's energy resources for more than 50 years. We bring global know-how and technical expertise to our operations and ensure we give back to the communities in which we operate, for which we have been recognized," said President & General Manager Bij Agarwal.
"We continue to look for opportunities to create value for both the government of Indonesia and the business unit. In the Corridor Block PSC, we are evaluating potential new wells, workovers of existing wells and facility optimization projects. In the Kualakurun Block PSC, an exploration block awarded in 2015, we are currently assessing recently acquired 2-D seismic data to determine exploration/appraisal potential," said Agarwal.
2018 was a year full of accomplishments and recognitions for ConocoPhillips Indonesia (COPI). One of the great milestones was achieved by the operations team: Ship 111, a Corridor storage tanker intended to provide both domestic and export lifting, began operating on March 25, replacing the Success Pioneer XXXV that had been operating since 2012. Numerous conversions were completed on Ship 111, including the addition of a custody transfer metering system with a total capacity of 30,000 barrels per hour; a mooring system; hoses and pneumatic fenders for lifting, lightering/bunkering and debunkering; a diesel system; a laboratory; IT and telecommunications equipment; and accommodations.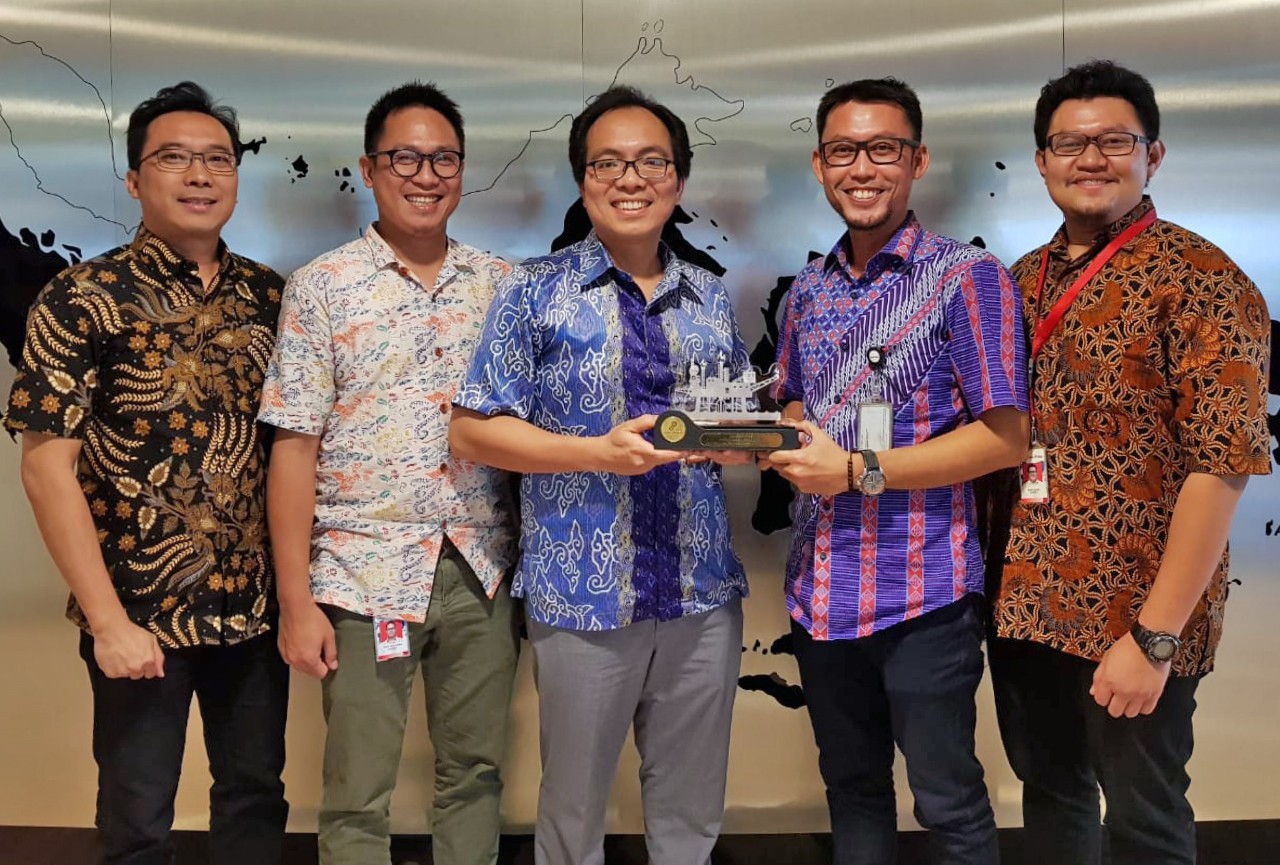 From 2012 through November 2018, the tankers have successfully conducted 116 liftings without incident.
"Effective collaboration between functions was the key to allowing us to execute the storage tanker swap safely," said Idham Purba, vice president, Operations. "Having a strong safety culture, good leadership and competent crews enables smooth and safe lifting operations without any technical disruption."
COPI also received several awards from its stakeholders, acknowledging the company's initiatives and excellent performance. In August, COPI received the Fuel Strategic Agreement Utilization Award from SKK Migas, the Indonesian Special Task Force for Upstream Oil and Gas Business Activities. COPI was the first to implement a strategic agreement in a contract with PT Pertamina (Persero) that resulted in a volume purchase discount, lower transportation costs and fewer fuel receiving discrepancies.
In addition, ConocoPhillips Indonesia won bronze, against 30 other PSCs, for the Citra Karya Nusantara award given by the country's Ministry of Energy and Mineral Resources based on an assessment of the use of local goods and how local content is regulated.
"It is our commitment to not only comply with the regulations, but also to value our partnerships with local content providers. This creates added value that supports the overall oil and gas industry as well," said Subagya Haryanto, vice president, Supply Chain Management.
SKK Migas also recognized COPI with its first career development monitoring award for national employee development, HR compliance and wellness and medical management.
Asian Games 2018
Asia's largest sporting event, held every four years, took place in Jakarta and Palembang August 18 - September 2. More than 17,000 athletes from 45 Asian countries participated.
COPI took part in this prestigious event by promoting various culinary products produced by local community groups through its corporate social responsibility program. These products were displayed at the food bazaar in Jakabaring Sports Center in Palembang. The company also sent 20 participants from its scholarship program for local students as liaison officers to support the event committee in handling guests and logistics.
Last but not least, the Ranau Sports Hall, built by ConocoPhillips in 2009 in the Jakabaring Sports Complex, was used as a venue for sepak takraw, a traditional southeast Asian sport similar to volleyball but played with the feet. Indonesia won its last gold medal of the games at this venue, making a final tally of 31 golds. What a way to close the event!
---
Production sharing contract (PSC) facts
The Corridor Block PSC consists of two producing oilfields and seven producing natural gas fields covering 809 square miles.
Approximately 80 percent of the natural gas produced is sold on the domestic market, with the remaining gas exported to Singapore.
The South Jambi B Block PSC was awarded in 1990 and will expire in 2020.
Kualakurun Block PSC, an exploration block awarded in 2015, is currently assessing recently acquired 2D seismic data.
---
Helping those in need
COPI Chief Medical Officer Ary Soeharijanto has taken part in many post-natural disaster recovery activities, on behalf of the company as well as on his own. He began his volunteer career with humanitarian efforts in a devastated Aceh in 2004 following the massive earthquake and tsunami. Since then, he has participated in many disaster relief activities in Indonesia, including the 2005 earthquake in Nias on Sumatra island and Jogjakarta on Java in 2006, as well as the most recent natural disasters in Lombok on Nusa Tenggara Barat, Palu on Sulawesi, and the Sunda Strait tsunami.
Dr. Soeharijanto's professionalism and experience in helping victims of natural disasters has been recognized by his peers and a request for him to serve as leader of a joint industry team with SKK Migas and Indonesia's Ministry of Energy and Mineral Resources to help victims of the recent Palu and Donggala earthquake on the island of Sulawesi.
Upon completing that project, he continued to personally support local communities of Karangbajo Village, North Lombok Regency during his time off to focus on relocating local public health services to provide better access for the community; assisting the community in developing better hygiene and sanitation by coordinating a fundraising effort for the installation of clean water pipelines for villagers; and implementing psychosocial programs for children to support their recovery process through fun, creative and motivational activities.
"We are very supportive of our employees doing volunteer work," said Evita Najoan, vice president, Human Resources & Medical. "What Dr. Ary does in many disaster relief activities is something we are proud of and highly appreciate. It represents not only his personal aspirations, but it also exemplifies our SPIRIT Values."
Following the recent tsunami in Sunda Strait, West Java and Lampung Province on Sumatera Island, again he was immediately asked by SKK Migas to conduct a rapid health assessment and support the local medical team, which had limited capacity and resources, in providing treatment for patients in Kalianda, Lampung.
Dr. Soeharijanto's expertise and commitment to helping others represent the best of ConocoPhillips and will continue to be of immeasurable value to communities in Indonesia.
---
ConocoPhillips Indonesia's iron lady
Many employees love sports and participate in competitions such as marathons and triathlons.
In November 2018, Yunita Sutoyo Rustiandini, known as Dini, completed a 70.3 ironman race in Langkawi, Malaysia, swimming 1.9 kilometers in the sea, biking 90 kilometers and running 21 kilometers within 8.5 hours. This was her second triathlon.
In last year's Energy in Action! program, COPI won the Wellness World Cup and top individual category. This corporate health and wellness program, in conjunction with COPI Employee Sport Activities (ESA), has helped Dini accomplish this impressive goal. A sports enthusiast since a young age, Dini joined COPI's cycling club in 2012. The club sponsors regular group rides through challenging, hilly tracks in and around Jakarta. She also became a member of the running and swimming clubs that are part of ESA.
Dini believes there are many advantages to participating in COPI sports activities, including practicing a healthier lifestyle and building an internal network. She believes such activities eliminate boundaries between employees, creating trust and a more collaborative and productive office environment in the office.