Sounds from the subsurface
How music is fostering collaboration and inclusion at ConocoPhillips
BY GUS MORGAN


---
QUICK READ
Three ConocoPhillips geoscientists formed a musical ensemble in the spring of 2017
This group is connecting colleagues and breaking down traditional workplace barriers
Fosters stronger connections and communications when conversation switches from music to business
---
HOUSTON — Inside a conference room at ConocoPhillips Center, Kat McFadden holds out her iPhone so the others can hear.
A catchy beat flows from its speaker.
Twenty-five years and my life is still
Trying to get up that great big hill of hope
For a destination
Heads nod. Eyes widen. Smiles emerge.
"Oh yeah," says Kyle Krueger, saxophone in hand. "I do know this one."
It's the 1993 hit single "What's Up" by 4 Non Blondes.
On this February day, seven members of Subsurface String Society have gathered for their first practice of the year. Topping the agenda: selecting new songs to master in 2019.
Rapidly evolving
The group's three original members — John Templeton, Brackin Smith and Keith Winfree — are all geoscientists who play string instruments, hence the group's name. Since its inception in early 2017, the group has welcomed many new members, and it's been a catalyst for fostering collaboration and inclusion at ConocoPhillips.
"To make a sound people can tolerate, we have to agree on: tune selection, instrumentation, arrangement and who's doing what," said Winfree, Geologic Fellow, "so it parallels many typical team business activities."
"Like all extracurricular activities at ConocoPhillips, these are the types of activities that bring people together and create community at our company." —Kat McFadden
Connecting colleagues
Studies have shown that music brings people together, working as a social glue to promote bonding and coordination. The Subsurface String Society is doing just that, functioning as a bridge to unify colleagues.
As a vocalist for the group, McFadden, director of Strategy & Portfolio, said music has a humanizing effect that builds rapport in the workplace.
"I think we get stuck into a rut of perceiving our colleagues as tools in our work environment rather than people," she said. "The beauty of doing something creative like singing or playing an instrument is that we're allowed to interact with each other as human beings and connect on a fundamental level. Once that happens, it changes the way we interact with each other, even at work, because we have bonded through a common passion."
McFadden said she never imagined she would get to know the diverse array of people in her own organization through music.
"Like all extracurricular activities at ConocoPhillips," she said, "these are the types of activities that bring people together and create community at our company. I want to see people thrive here and share the things they are passionate about with others."
Smith, who plays guitar, said the group is always looking for others to join and bring something to share.
"We haven't met a musician or a tune that we can't find a way to fit into the group," said Smith, Geoscience Advisor. "When we started, we did all of it acoustic. Then in summer 2018, we expanded voices and instruments, adding violin, basses, and electric guitars and the repertoire exploded. Most of us are 'ear' players and have a good time just making whatever anybody wants to lead with sound good."
A common thread
Geoscience Manager Stephanie Erickson, who plays the violin and viola, said even though the group's members come from different backgrounds, they've found a common thread in music, which has been the catalyst for their friendships and has laid a foundation for stronger communication in the workplace.
"Having a positive relationship with the other band members brings transparency to our conversations," she said, "and allows us to openly disagree and debate without hard feelings."
Erickson said playing music also sharpens one's business acumen.
"Music requires significant brain power," she said, "but it's a different kind of thinking than I do in my job."
When it's time for the group to put away their instruments after their lunchtime practices, Erickson said it's like hitting a reset button.
"My mind feels refreshed and my ability to focus after lunch has improved," she said. "Plus, I'm just a happier person than I was before we started."
The group's drummer, Bret Fossum, manager of Structure, Stratigraphy & Pressure, said being able to work well with others is essential when playing with other musicians.
"Playing music together is the definition of inclusion and collaboration, and if you don't listen to your fellow musician, the music reflects it," said Fossum, who also plays percussion hand drum instruments. "I've played with so many different bands and on so many stages that I'm able to interpret what my fellow musicians are trying to do, which helps me to ensure they get to where they want to go."
A universal language
Krueger, senior geophysicist, joined the group in December. He said the ensemble fosters collaboration and inclusion by breaking down experience, skill and cultural barriers in the workplace.
"We have high-level managers playing with new hire individual contributors and everyone in between," said Krueger, the group's saxophone player. "It's a universal language that everyone understands regardless of your spoken language. This helps to find common ground with people at the company who you might not possibly interact with."
Playing music has numerous benefits, Krueger said, noting that studies have linked playing music to enhanced math and problem-solving abilities. And, he said, playing music with others helps one learn how to find their role in a group.
"It shows them how to take pride in the success of the group," he said, "as opposed to the success of an individual."
And while everyone brings something unique to the group, Krueger said, they must understand how to fit within the greater group dynamic.
"It doesn't matter how talented you are," he said. "If you can't blend, harmonize or play in tune with others, the group will sound horrible and no one will want to play with you. That is one of the most important abilities to have when working in a large collaborative environment."
"Music as a discipline is all about listening and understanding how to play your part within the larger group. Each member has a job, a contribution to the larger sound and dynamic of the whole band." —John Templeton
A forum for creative risks
Templeton, senior geologist, emphasized the group's main purpose: fun.
"We're all completely willing to make fools of ourselves, or flub every tune, but keep on playing and laughing, and constantly encourage and support each other in taking creative chances," said Templeton, who plays the banjo.
Having a musical relationship with colleagues is beneficial, Templeton said, as it fosters stronger connections and communications when the conversation shifts from music to business.
And while the group's growth has brought additional challenges, such as incorporating more personalities and instruments, Templeton said it has also expanded the group's potential for greatness.
The group, Templeton said, is a safe, supportive space for individuals to try things, a musical haven that promotes innovative thinking.
"It's a forum to take creative risks," he said, "and laugh and keep playing when it doesn't work the first time. 'Let's try it again!' is a commonly heard request at the end of a challenging piece."
Subsurface String Society
Subsurface String Society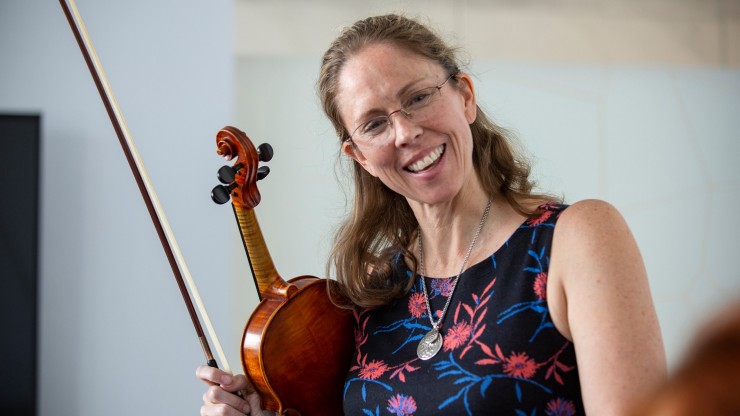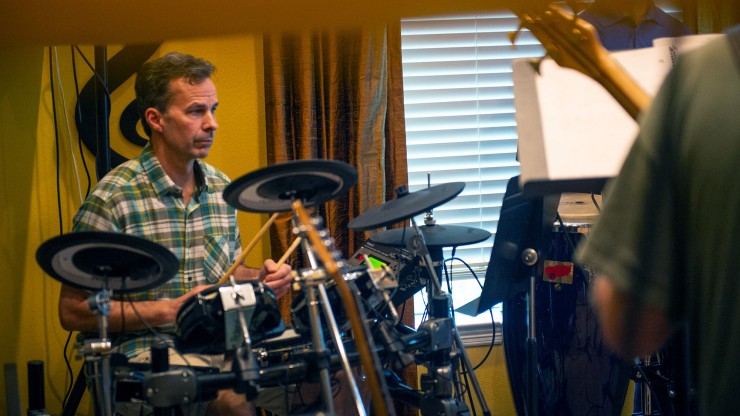 At a glance
WHAT: Subsurface String Society, a musical ensemble at ConocoPhillips
FORMATION: Spring 2017
ORIGINAL MEMBERS: John Templeton, Brackin Smith and Keith Winfree 
ADDITIONAL MEMBERS: Kat McFadden, vocals; Stephanie Erickson, violin; Alejandro Perozo, bass; Brenton Chentnik, guitar; Matt Gerard, bass, guitar; Kyle Krueger, saxophone; Paul Johnson, guitar; Guoxiang Zhang, trombone; Bret Fossum, drums, percussion hand instruments; Dave Mabee, vocals; Judy Roper, vocals; and Will Smith, vocals
FAST FACT: In the beginning, the group was purely acoustic, focusing on bluegrass, folk and blues
QUICK QUOTE: "Our purpose is to get together and have fun, and we do that by collaborating. Collaborating musically is extremely personal and dynamic. If you don't do it well, it sounds bad. If you don't take turns sharing the spotlight, it's not much fun. So, when we get together, we're building our collaborative muscles that we use for more serious business." — Keith Winfree
TUNES IN PROGRESS: "Africa," "What's Up," and "Moondance"